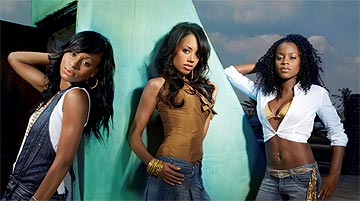 This is Trinity Stone. They may look like they could have appeared at literally any point in the last six years but that is not the case because they are new and they are 'coming your way' very soon indeed.
They are also on a proper record label and have had proper money spent on them, so they are not just one of those terrible bands knocking around on the Winchester FM roadshow 'circuit'. They are proper.
Here is what you need to know.
They are Jade, Azi and Cherri, and are 19, 22 and 22 respect­ively. A lot can happen in three years. We wonder whether Azi and Cherri have filled Jade in?
Trinity Stone are not Triniti, who are a different band all together, hence the fact that they have a different name.
Their first single, 'Move A Little Closer', is released in September. That's right, viewers — 'the autumn'.
It is co-written by the group, whatever that means or counts for in this day and age.
In pursuit of an urban edge, the band have been working with the likes of legendary Faders producer Brian Rawling, as well as Stargate, whose cools beats have powered songs for the likes of Atomic Kitten, V, Stephen Gately and Billie Piper.

(Also involved are proper urban pop legends Soulshock & Karlin, who've worked on everyone from Tupac to Whitney. Let's hope Trinity Stone aren't dead and/or on crack by Christmas.)

They are "on a mission to record quality songs with stunning vocal harmonies and infec­tious melodies". To this end 'Move A Little Closer' is brilliant. It sounds a bit like a Sugababes album track (WE MEAN THIS IN A GOOD WAY) but also does not sound very much like another girlgroup, which is quite nice. But don't just take our word for it! "It's not awful," enthused Mark at Popjustice HQ.
According to the band, they formed "when friends Jade and Azi were working in the studio with Grammy award winning producer Brian Rawling. Brian was also producing material for soul legend Mica Paris, whose niece Cherri was in the session helping out with backing vocals. Jade and Azi got to know Cherri and, over time, started working on the idea of becoming a three piece harmony group. Realising that their vocals created a unique blend they began writing and recording demos which quickly found their way into the hands of Brightside Records".
That sounds like a con­veni­ent and organic way for a group to come together, doesn't it, readers?

"

Trinity Stone are without doubt set to take the music scene by storm in 2006," notes the press release. Remember where you read that first, readers. There is NO ROOM FOR ANY DOUBT WHATSOEVER that Trinity Stone will be a success.
They should be a success though.
In the sense that the song's good, at any rate.
Although we haven't heard anything else.
Or met them.
But still.