Earlier today we asked whose Greatest Hits packaging made the following ludicrous claim.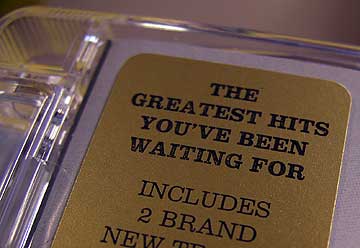 The answer, viewers, is…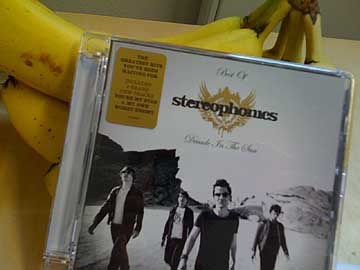 STEREOPHONICS.
We apoloise in advance to any Stereophonics fans but we have to say that in terms of 'things we've been waiting for' a Stereophonics greatest hits col­lec­tion sits somewhere between sci­ent­ists breeding an army of genet­ic­ally accurate Hitlers and an asteroid spinning through the cosmos and des­troy­ing the planet: it's an event that's bound to happen at some point, but you just cross your fingers and hope it won't be in your own lifetime.
Perhaps better phrasing for the sticker might simply have been 'THE GREATEST HITS YOU KNOW WAS
BOUND TO HAPPEN SOONER OR LATER', or perhaps 'YOU KNEW THIS GREATEST HITS WAS
COMING, JUST LIKE YOU KNOW THAT ONE DAY YOU'RE DOING TO DIE'.
We've actually got it on the office stereo at the moment. Some songs, like 'Maybe Tomorrow' are actually WORSE than we remember. And we haven't even got to 'Mr Writer', which remains the pinnacle of Kelly Jones' idiotic song­writ­ing lunacy.