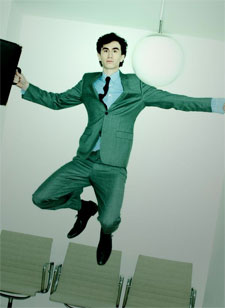 It's not exactly croquet on a rubbish dump but playing golf and wandering around a non-specific 'urban envir­on­ment' is the nearest you'll get on this par­tic­u­lar Thursday.
'All that and more' is in the video for 'Olive Eyes' by FrYars, which is today's Popjustice Song Of The Day.
If you haven't heard much of FrYars before give him ten minutes of your time — his album 'Dark Young Hearts' is a cha­ris­matic, self-contained gothic pop exper­i­ment featuring songs with titles like 'Lakehouse' and 'The Novelist's Wife'. Basically he's a bit
like a mildly Italotronic Patrick Wolf without the tantrums or
out­land­ish pantaloons.
This is the video we were dis­cuss­ing above.
WARNING: VIDEO FEATURES CAT
httpv://www.youtube.com/watch?v=0qu4EH8Qmiw

This is the FrYars MySpace.