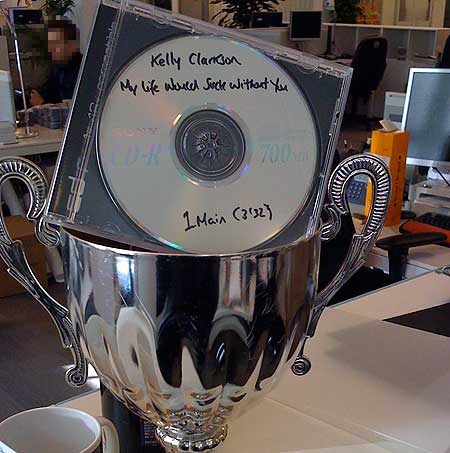 As our Twitter followers already know, we went to Sony HQ earlier today. Our mission was to have a little listen to the new Kelly Clarkson single, 'My Life Would Suck Without You'.
What's it like? Well, you cannot escape the fact that the intro is so similar to 'Since U Been Gone' you will probably think you are indeed listening to 'Since U Been Gone'. Lyrically the song does actually lend itself to thoughts of being a sort of 'Since U Been Gone Part Two' and one could, at a push, see it picking up that song's story four years on with Kelly realising that despite the earlier song's defiant howl of inde­pend­ence she does, in fact, want her ex back. 'My Life Would Suck Without You' is about the fella returning tail between legs ("guess this
means you take back what you said before, like how much you wanted
anyone but me") and a rela­tion­ship starting up again and being quite
jolly in spite of all the previous nonsense.
The chorus goes "we belong
together now, forever united here somehow, you got a piece of me and
honestly my life would suck without you". Except it's not just "my life
would suck without you", it's "my life (MY LIFE!) would suck (WOULD
SUCK!) without you". "I know that I've got issues but you're pretty
messed up too" is another good line; we also like the middle eight bit
with "being with you is so dys­func­tional, I really shouldn't miss you,
but I can't let you go".
It is struc­tured like this:
1. Long intro with 'Since U Been Gone' guitary noise.
2. Vocal joins guitary nose with drumbeat.
3. Song explodes into chorus.
4. Song pulls back into second verse.
5. Chorus
6. Middle eight: everything drops out, 'Since U Been Gone' guitar noise starts up under­neath vocal, drumbeats and Since U Been Gone guitar noise lead into big whooshing noise into…

7. Chorus which leads to hilarious 80s rolling synth drumfill thing (we don't know what it is but you'll know what we mean when you hear it) which leads to…
8. Final chorus, sudden end, guitar noise, 'fin'.
There is no bridge. NO BRIDGE! Production is halfway between 'Since U Been Gone' and Pink's 'So What', with some drum machines chucked in. The song is three minutes and thirty two seconds long — only two seconds away from the Optimum Pop Duration — and comes in at about 145bpm. This BPM means that nightclub rotation will inspire more in the way of hands in the air/pointing/shouting than proper dancing. The song is better than anything Kelly did before 'Since U Been Gone' and it's also better than anything she's done since 'Since U Been Gone', so it should keep people happy. It is a pop song.
Anything else you want to know? We'll do our best to answer your questions: [email protected] is where you will find us.