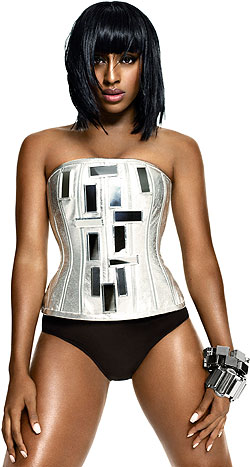 Think of 'Hallelujah', then think of the opposite.
Some important points here, in no par­tic­u­lar order:
»
The single is called 'Bad Boys' and it features US rap gentleman Flo Rida.
»
The writing credits are Larry Summerville Jr, Busbee, Lauren Evans and
Alexander James. The song is produced by The Phantom Boyz.
»
The song's intro is a brilliant hybrid of the intros to Britney's
'Womanizer' and Girls Aloud's 'Biology' (ie it's quite noisy and exciting sounding) except with Flo Rida shouting over the top
and a demented elast­ic­ated siren effect bouncing from speaker to
speaker. The track's def­in­itely in the same ball park as things like 'Womanizer', but with a slightly more euphoric disco feel.
»
'Bad Boys' is about Alexandra fancying dangerous men. "Some people call them players but I'm far from terrified," she says in the song's opening lines, "somehow I'm drawn to danger and have been all my life." The nature of these boys' actual 'badness' is not specifed. We're not sure if it's Josef Fritzl level badness or just 'has three points on his driving licence after doing 37 in a 30 zone'. Probably the latter, on reflec­tion. Still, imagine the video for the former.
»
The chorus has a really strong melodic topline — the lyrics are "the bad
boys are always catching my eye, the mad boys are always spinning my
mind, even though I know they're no good for me it's the risk I take
for the chemistry, and the bad boys are always catching my eye".
»
This is NOT A BALLAD. This is THE OPPOSITE OF A BALLAD. (Mind you it would probably lend itself quite well to one of those stripped down piano versions that seem to be all the rage these days.) We estimate this song to be about 140bpm and HIGHLY DANCEABLE. Alex's vocals sound very Whitneyish in parts and this is the sort of song we'd like to imagine Donna Summer coming out with if she was twenty years old in 2009. Sadly she is not twenty years old in 2009. She is far older.
»
Flo Rida is in two parts of this song — the intro ("FLO RIDA! ALEXANDRA GIRL I KNOW WHAT YOU LIKE!" yeah alright calm down mate) and the middle eight. The middle eight is Flo explain­ing to the listener to just what an extent Alexandra Burke is actually fond of 'bad boys' and badness in general. One par­tic­u­larly earth-shat­ter­ing moment comes with the announce­ment that "with even the alphabet she only sings the crooked letters". (Amazing.)
»
In terms of vocal acro­bat­ics 'Bad Boys' has a singy chorus but it's not a 'look at me I'm a singer' chorus, and the same goes for the rest of the track. It works brili­antly — sometimes we can't help but feel (this is probably just us but still) that there's something quite exciting about an incred­ible singer being forced to follow a very strong and melodic topline instead of going all over the show. It's like pop singer bondage. *Cut to shot of Eoghan Quigg wanking with orange in mouth*
»
There's no fade at the end, just an amazing BANG BANG BANG BANG BANG BANG BANG BAD BOYS BAD BOYS which will hopefully be accom­pan­ied by an eyebrow-burning quantity of pyro­tech­nics when Alexandra turns up to The X Factor in order to warble the tune on the day of its release.
» 'Bad Boys' is out on October 12. As is the modern way, Alexandra has also recorded an 'album' — a dozen or so songs grouped together — and that will be released on October 26. You can hear 'Bad Boys' tomorrow morning on Chris Moyles' Radio One breakfast show.
» We have listened to this song 41 times since it arrived in the post earlier today. It's basically brilliant.