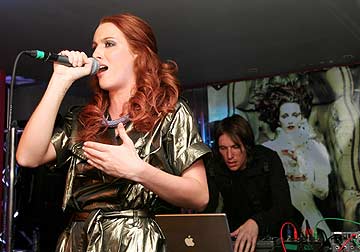 The second Popjustice Live took place in London on Wednesday night and it was very good.
Booty Luv came on first to perform 'Boogie 2nite' and 'Shine'. They were so amazing that there was serious dis­cus­sion at one point about getting them to perform 'Shine' between every single act of the night, and then twice after­wards, but that idea was vetoed. Unfortunately we did not get an oppor­tun­ity on the night to discuss the ins and out of their name being about bumming but we will literally get to the bottom of that when we get a chance.
Next up, The Real Heat took to the stage, did a load of songs and scared people with their "FUCK! FUCK! FUCK!" chants. It would be nice if, in the future, people were shocked when bands DIDN'T swear in their songs. This is all a per­cep­tion issue and something The Real Heat will change when they take over the planet in 18 months.

BWO turned up next, kept their "no ballads" promise and gave their first live per­form­ance anywhere of new single 'Save My Pride', which is a balls-out, high octane reworking of the Alcazar song of the same name. Their per­form­ance was deemed to be Very Good by everyone in attend­ance except the people who were deaf.
The final live act was Siobhan Donaghy, who did a load of songs from her new album including the hit single 'Don't Give It Up'. Lots of her fans took lots of pho­to­graphs which you will find on the internet if you look quite hard. Good old Siobhan.
After all that, Lil' Chris did some DJing and played things by Girls Aloud, Rainbow, Justin Timberlake and Gorillaz.
By this point in the evening everybody was com­pletely shouting drunk. Amazing.
Thanks to all the bands and everyone who came along for making the night such fun…