We didn't mention Master Shortie's single sleeve when we featured him as Song Of The Day on day ago today, but here it is slightly bigger.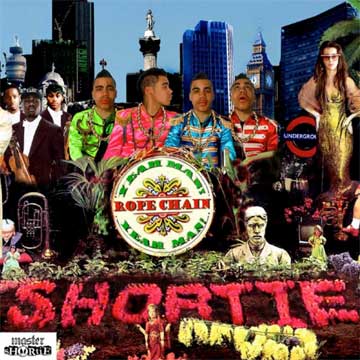 Yes, we know there are about a million Sgt Pepper's parodies every 18 months but what you have to consider here is that:
1. 'Rope Chain' is just a limited sort of inde­pend­ent-type release.
2. This is a lot of effort to go to 'in this day and age'.
You can put Mr Shortie firmly in the 'one to watch' category, by the way — he's got some great, really main­stream stuff (not yet on his MySpace) coming up, including a song based around an Adam & The Ants 'Prince Charming' riff.
Oh yes.