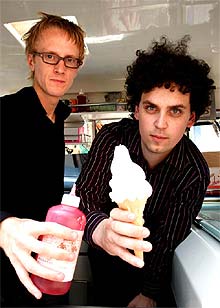 Do you remember 'Pump Up The Jam' by Technotronic from about 20 years ago?
If you can't think that far back because you were a) too busy dancing in fields or b) not born, then the amazing 'It's The Beat' single from bor­der­line-fash­ion­able pop troupe Simian Mobile Disco might jog a few sup­pressed memories.
Except as well as sounding like a New Acid House record (someone alert the genre police), 'It's The Beat' is also very 'now'. Now being 10:41 on a Friday morning. It might seem quite old fashioned by the time you read this, like an iPod made of twigs and berries. Although it might still sound alright.
ANYWAY. You can listen to it on their MySpace page, which is right here, but MySpace being MySpace, you can only listen to it a volume so low that you could play it at your grandmother's house without anyone pulling a face or raising so much as a half-inter­ested eyebrow.
PS. We don't like the look of Mr and Mr Simian very much. Would you ask those two for a 'large whip', viewers? No you would not. It would come with unsavoury chocolate sprinklings.