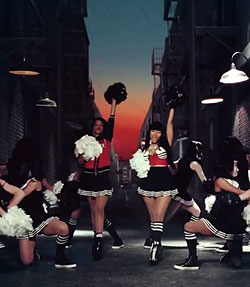 Here is what.
1. Sia
We like how she has basically taken over the Top 5, we like some of her fans being a bit annoyed, we like most of her fans recog­nising the fact that she's still the Sia they liked in the first place, and we like the idea of more big things in the next twelve months.
2. Origibabes
New tunes from this lot are more exciting than the Olympics and the new series of Mad Men COMBINED.
3. Madonna
We're still compiling our 'dossier' on 'Give Me All Your Luvin'', but that Super Bowl per­form­ance was pretty great.
4. feat Nicki Minaj & MIA (pictured)
Ideally what will happen now is that feat Nicki Minaj & MIA will keep popping up as a double act, shouting and swearing, on other people's records. They will even­tu­ally figure out that they spend so much time together that they might as well form a proper pop duo — the cheer­leader 'motif' will continue — and share a flat. Their flat will be the situation of a 'living with feat Nicki Minaj & MIA'-style docusoap. They won't always get on, but they'll always laugh when they remember that time they turned up and made a Madonna song briefly amazing. Roman will also appear, in the guise of a local policeman whose catch­phrase "good moaning — I was just pissing by" will be cherished by a gen­er­a­tion. One day Eminem will try to piss on them. The duo will briefly split up when one half formed a duo called Sia & MIA but that will all fall apart when they realise that it doesn't work phon­et­ic­ally and literally just looked good on paper. The theme to the show will be the Terry & June music except with gunshot sound effects and Natasha Bedingfield backing vocals.
5. The Brits
We have a feeling that this year's will be a good one.

666. Gotye
WHEN WILL THIS REIGN OF TERROR END?