Robyn and Kleerup had a small party upstairs at a pub in London's pic­tur­esque Kensal Green last night to celebrate the fact that 'With Every Heartbeat' topped the pop charts. Here they are saying hello while DJing together.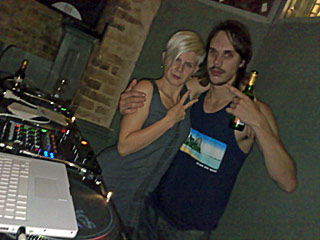 There was not a buffet but there was a chan­delier. Swings and roundabouts.
WARNING: Do not bother trying to see what is actually happening in the worst YouTube clip of all time, which is here…
httpv://www.youtube.com/watch?v=BPR2wF8YSiw

…and depicts Robyn and Kleerup dancing to THEIR OWN SONG.
It is fair to say the evening ended fairly messily with one of the high points undoubtedly being an inter­est­ing chat with Robyn about Swedish tax laws. You can literally not take us anywhere.