One of the songs in the chart requiring an added boost from a pointless mer­chand­ise range is almost certainly not 'Umbrella'.
There is going to be a range of Rihanna umbrellas launched and they will cost between ten and 25 pounds. Presumably the ten quid ones will be really difficult to open and the 25 quid ones will not.
Here is a picture of the expensive one and the cheap one. The cheap one is the same colour as poo.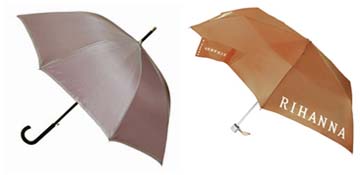 It is also nice that she has had nearly three months to come up with this idea and waits for the day that the flooding stops and the sun comes out to announce this. Perhaps she has been having trouble gluing the handles on.
Here are a few other songs in the charts which might benefit from a blatantly obvious piece of over­priced merchandise.

Amerie – 'Gotta Work'
A job applic­a­tion form!

Kate Nash – 'Foundations'
Cement!

Mark Ronson – 'Oh My God'
A Bible!

Bloc Party –'Hunting For Witches'
A witch!

Fergie – 'Big Girls Don't Dry'
A tissue!

Mika – 'Big Girls'
A shotgun!
You get the picture.