It's hard to see a pop group pro­mo­tional shot like this…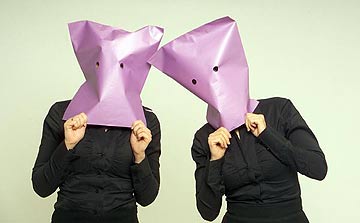 …and not think that you might have chanced upon the greatest pop group of all time.
They might look like Daft Punk at a children's birthday party but the band behind the masks are in fact Marsheaux (also today's Song Of The Day , with 'Dream Of A Disco') and they are great in a kind of dignified, Annie-esque European pop fashion.
They blipped onto our radar a while ago with a brilliant elec­tro­pop cover of The Lightning Seeds' 'Pure', then we forgot all about them, and now we have remembered them again.
The pink bags are actually the fold-out sleeves for the band's very good current album, 'Peek A Boo'.
It's all well worth invest­ig­at­ing further — their MySpace is at www.myspace.com/marsheaux for obvious reasons.