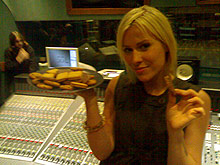 Earlier today we met Natasha Bedingfield (pictured) for tea and biscuits (also pictured) at London's posho Olympic Studios.
We ended up getting slightly obsessed with her first album so today's thing, the point of which was to listen, along with some proper journ­al­ists, to tracks from Beddo's new album, was quite interesting.
A man from Natasha's record label said that this morning was a "platform to engage in dialogue" as the record approaches. We think this means do some inter­views and things.
Anyway.
Here is what we can 'exclus­ively' tell you about Natasha's new album:

1. The first single is called 'Babies' and the chorus goes "I want to have your babies". Natasha says it is about, as a woman, meeting men on dates and sub­sconsciously audi­tion­ing them as the potential father of your child. We can't imagine readers of Zoo Magazine being very impressed with this.

2. 'Pirate Bones' is about going 'all out' to get a thing only to find that you can't use it, or something. Beddo said it would be like being a pirate stuck on a desert island with lots of gold but no shops to spend it in. If she thinks that's bad she should try coming to our office — it's a twenty minute walk to the nearest Waitrose.

3. The big (and it is very big) ballad on the album is called 'Soulmate' and it asks the question "why am I on my own if there's a soulmate for everyone?". It was written on a bed. It rhymes "incom­pat­ible" with "it don't matter though". It also includes the word 'trans­it­ory', surely this album's equi­val­ent of 'hyperbole'. It is a bit like a big Christina ballad except a) better and b) delivered with a vocal that isn't all "LISTEN TO ME I HAVE GOT A BIG VOICE".

4. Another song called 'How Do You Do?' is about whether it is alright for women to make the first move in a rela­tion­ship (ie go up to a chap and say "How do you do?"). "Is it wrong to be the instig­ator?" asks the chorus, before answering "NO!". This is all good news — at this rate, it won't be long before women will be able to vote!!! This song includes the thought-provoking lyric "you're not climbing up my ivory tower".

5. A song called 'Say It Again' was written with Adam from Maroon 5. It sounds a bit like Maroon 5 with Natasha Bedingfield singing on the top. Natasha did a little dance when this one came on.

6. Another one called 'Backyard' is about things being a lot easier at an age when playing in one's backyard was The Done Thing, and includes a reference to a "plastic bazooka"; 'Roses' was written before 'These Words' (but is still quite good); 'When You Know You Know' is a little bit Diana Ross.
So that is some stuff about songs. Bearing in mind that everything sounds amazing when you hear it in a recording studio, it did sound really good and the pro­duc­tion is quite exciting. Also what is quite impress­ive is that in spite of having buggered off to America to record this album, Natasha has managed not to go com­pletely musically up herself or lose sight of the fact that people liked her in the first place because she made good pop songs with words like 'hyperbole' in them.
The first single's out next March, along with some live dates and the usual pro­mo­tional events.