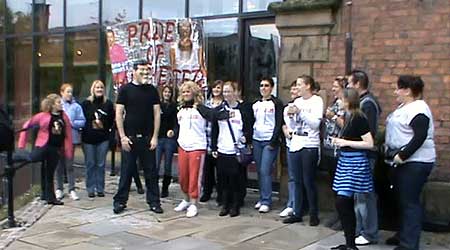 Over the weekend a posse of furious Shayne Ward fans got together to protest outside Manchester radio station Key 103. They're not happy with the way Simon Cowell has managed Shayne Ward's career.
Here's what happened.
httpv://www.youtube.com/watch?v=7WAvggReLEY

Now we know what you might be thinking. "There are only sixteen people in this video, surely that's not enough to convince Simon Cowell to make another Shayne Ward album." You're right to have your concerns, but a new Shayne Ward album is not an impossible dream.
There are two options.

1. Increase required fan input to meet costs
If you take in recording, man­u­fac­tur­ing, marketing and other associated
costs for an entire campaign (because of course they won't be happy
with just two single releases from the album and will no doubt campaign
for a third 'for the fans') at usual Syco standards let's say you could get the whole thing
done for £500,000 without fans moanin' and wailin' about Shayne not having enough money spent on him. This means that each of the sixteen fans pictured above would need to pay £31,250 for this to break even. Perhaps this could be deemed good value with the use of 'super deluxe edition' albums including a postcard and a badge.
2. Scale down costs to meet demand
If you take those 16 fans and assume they'll each buy an album, three singles on every (remaining) format and a DVD re-release next Christmas, you're looking at taking around £30 from each fan, putting the budget for the entire campaign at somewhere in the region of £480. This is certainly doable, it just requires some tight­en­ing of belts.
If the Shayne Ward fans could let us know which option they wish to pursue we can get onto Syco and try to get this project moving.