Promotional pho­to­graphs don't come much better than THIS.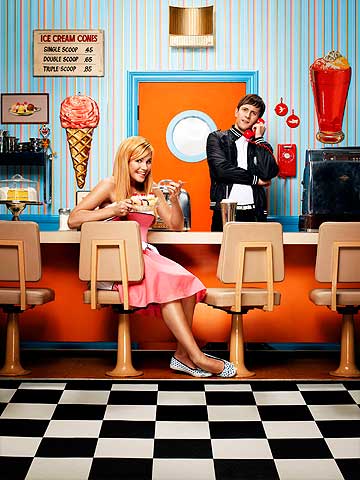 What are Same Difference promoting? We will tell you. They are promoting their new single, 'We Are One', and their new album, 'Pop'.
What does 'We Are One' sound like? We will show you.
[audio:samedifferenceclip.mp3]
Now we know who Sean's on the phone to in that photo — it's Troy and Gabriella, and they want their song back. We're joking of course, because 'We Are One' is not actually 'Breaking Free', it's just 'Breaking Free' with different lyrics and a different tune. It's the 'Trigger's Broom' of 21st Century pop.
Well, when we say '21st Century' we sort of mean 'turn of the century', in the sense that the album, even more than the single, sounds like the sort of pop music Sean and Sarah were listening to when they were growing up. It's no coin­cid­ence that the album takes more than a few cues from Steps — signed to Syco, Same Difference have been given a helping hand from Tim Byrne, the man who invented The Band Optimystic Could Have Been in the 90s.
The album's really great — we'll tell you some more stuff about it tomorrow. But in the meantime: have a look and listen to this.
Oh yes.