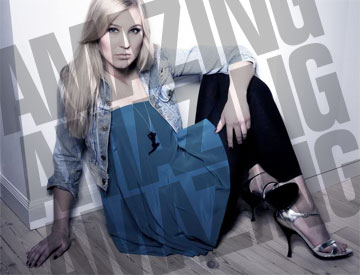 This young lady with AMAZING written three times across her face is Swedish 'songbird' Rosanna. She has AMAZING written over her for a good reason: she is amazing, and one of our favourite unsigned pop people. Her song 'Gameboy'…
[audio:gameboy.mp3]
…is today's Song Of The Day and as you can hear it is fairly incredible.
Another of her songs, 'Heartattack', ticks quite a few boxes on the Listenable Song checklist, too.
[audio:heartattack.mp3]
She's made a cheap and cheerful video for another song, 'Flashing Lights'. It's got some flashing lights in it.
httpv://www.youtube.com/watch?v=MedN_-dWRcE

There's more info over on Rosanna's MySpace — if you like these tracks, she's also con­trib­uted some bits to 'Stadium Status', the recent (partially very good) album by Kocky, which is on iTunes here. Like we say, at the moment Rosanna is unsigned but she can't stay that way for long, surely?