Join us, if you will, for a trip down memory lane, all the way back to the year 2005.
Condoleezza Rice is sworn in as US Secretary of State, becoming the first African American woman to hold the post. In sport, Tiger Woods wins the 69th Golf Masters. And in the world of music, upcoming US girlband Pussycat Dolls are on the verge of releasing their debut single.
This was around the time when labels exper­i­mented with things like releasing singles on USB sticks.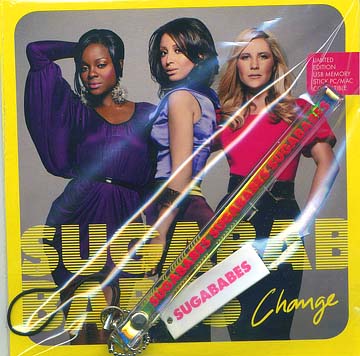 But the worst music format of the 2000s, and we believe the worst music format of all time, was the Ki-Bi Mobile Card.
Look at the state of this.
Looking back now, it's obvious that in the mid-2000s the music industry was caught in the strange no man's land between the 1990s, when physical formats reigned, and the point we're now at in the 2010s, when the intan­gible, fast-paced digital music scene has left physical sales for dead.
Back in 2005 people were still buying CD singles in Woolworths, but labels also knew that music fans were using their phones more than ever. Still, with the iTunes Music Store just two years old and yet to dominate music sales, punters just weren't yet ready to leave behind hold-it-in-your-hand music purchasing.
Enter Ki-Bi, a company whose revolu­tion­ary, credit card-sized tech­no­lo­gical wonders could be purchased in actual shops with actual money. But they were not just for looking at. These cards were the key to an exciting neth­er­world of ringtones, video clips, mobile phone wall­pa­pers (this was at a point when phone screens were about eight pixels wide) and even WAP, which was a special shit type of internet just for phones.
Can we just say at this point: meetings. Imagine the meetings. IMAGINE THE ENDLESS MEETINGS. Imagine the Ki-Bi execs flying around the world, with their laptops and their laser pointers. Imagine the music industry bigwigs sitting there, thinking "this looks a bit crap" but also knowing that their world was crumbling so deciding to give it a go. Imagine the follow-up calls and emails. Imagine 'the guys in biz dev' and imagine the contracts, the rev share cal­cu­la­tions, the quibbling over details. Imagine all the hassle. Good grief.
But how did it work? Well, if you flip over the Pussycat Dolls card, you find instruc­tions on how to use your purchase, which went for about £4.50 (roughly £550 in today's money).
Simple, right? Well:
It's a miracle, really, that the Ki-Bi cards didn't become industry standard for pop singles. And it's a crime that the cards therefore did not make it into Wikipedia's music format hall of shame.
Additionally, we're sad to report that there's bad news for anyone who, like Popjustice, finds an old card in a box and is tempted to dig out their old Nokia 3310 in order to access some of the great content on offer.
Even the number we might have once called in order to unlock all that great content is, in 2015, com­pletely dead.
Despite Ki-Bi's best efforts — they also flogged this to football clubs and the games industry — the format did not last. Ki-Bi's website isn't much help these days; in 2006 the company was bought by a company called Spiral Solutions, but even Spiral's website doesn't mention the magical cards that briefly, ten years ago, seemed like the future.
So let's remember the Ki-Bi cards today.
Maybe you purchased one. Maybe you used it to access 'WAP settings', or to download a 'Don't Cha' truetone. Maybe you even sent this great content to a friend via SMS. Maybe you just saw it in a shop and thought 'no thanks'. Whatever your exper­i­ences, don't forget to share your memories in the comments below!