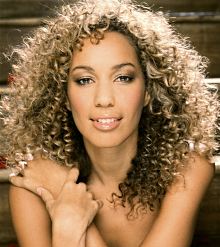 Leona Lewis is still at Number One in the singles and albums charts. Well done Leona Lewis. How's she pulled it off? Well, 'Bleeding Love' — as well as being one of pop's best extended metaphors since 'Love In The First Degree' — is a com­pletely world class song with immacu­late pro­duc­tion, a great vocal per­form­ance and a big fuck-off chorus. But that wouldn't usually be enough to drive record-breaking album sales.
It's basically all about the 'what would Madonna do?' mantra Leona's bigwigs have been using. We heard about it a few months ago and then it was in Popbitch so it must be true. Basically the idea of it is that if Leona's offered something — maybe a spon­sor­ship deal, or a TV appear­ance, or whatever — Leona's people ask them­selves, "would Madonna do this?". If Madonna would do it, Leona does it. If not, Leona doesn't.
It kind of sounds laughably pre­ten­tious in a way, but approach­ing a pop launch without going hell-for-leather on literally anything going is refresh­ing, it creates an air of dignity around an artist, and it's worked. It's a brilliant self-ful­filling prophecy: if you're trying to invent the persona of a global megastar — and it's fair to say that Leona presents something of a blank canvas — just behave like you've already got one.
Things Avoided If You Apply The WWMD? Rule
1. Dressing up as an elf and jumping around like a cunt on Ant & Dec's Saturday Night Takeaway
2. Generally doing the usual shit 'popstars' are required to do as defined by an ever-dwindling level of cre­ativ­ity within the media
3. Etc
Very cleverly, Leona's people have sidestepped the biggest problem facing new pop launches — that there so few TV slots or print pub­lic­a­tions to trumpet a new arrival — by stating that they're not even inter­ested. Instead, with a couple of Paul O'Grady Show-type excep­tions, Leona's just done the best bits, like an interview and 'classy' pho­toshoot for Harper's Bazaar, turning on the Oxford Street lights, and so on.
On the web, Leona's people cleverly used Perez Hilton to create the impres­sion among blog-watchers in the UK media that there was a buzz in the States which made her seem like a big deal you'd be stupid not to get involved with (while sim­ul­tan­eously stirring up a buzz in the States). The involve­ment of Clive Davis has also been vital (above and beyond his formal involve­ment) simply because his name being attached to the project imme­di­ately cata­paults Leona to the level of world class superstar. She's even got the album sleevenote thank yous of a US star — the first four words being "Thank you to God".
This ties in with stories which are either leaked by Syco (not that they'd do that sort of thing) or which are, at least, very stra­tegic­ally un-denied by Camp Leona. Those rumours that Leona would sing the next James Bond theme, which appeared in the press the week 'Bleeding Love' hit the shops? Brilliant: she's a global talent, inspiring money-doesn't‑have-to-buy press coverage like the 'Hackney to Hollywood' story in The Sun.

And let's go back to the very start of the campaign. She didn't launch it all with a three song showcase in some Soho shithole with £500 behind the bar and eight cocktail sausages on a paper plate. Everything you need to know is in the invites. Take a look at these.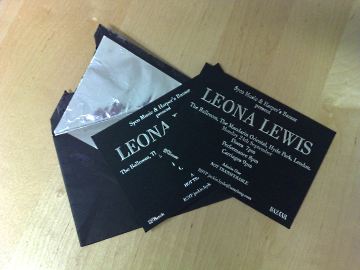 » Black envelope — classy. Usually reserved for exclusive things like Madonna album playbacks so the Leona launch is exclusive too, right? Right. The black envelope implies that these invites haven't just been sent to everyone, just important people on an exclusive list. "You've invited ME? How flat­ter­ing…" Not that the media are EVER even worse than popstars at respond­ing pos­it­ively to having their egos flattered…
» Silver lining to black envelope — you open it and you know something important is happening. IT IS SHINY AND NICE.
» Black invit­a­tion with silver writing — it's on card so expensive and thick that it will support the weight of a Jamelia snowglobe.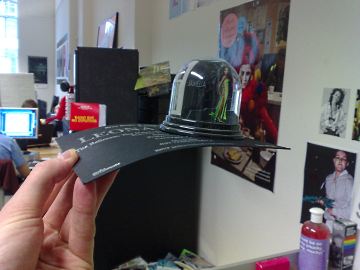 Or even — if you use two of them — Dumper, the Popjustice Work Experience Robot.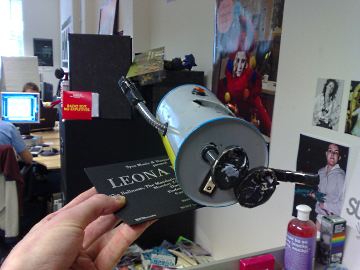 And while we're on the subject of the invitation…
» 'Syco Music & Harper's Bazaar present' — swank-o-rama. (FYI Harper's Bazaar is a very swish poshknob pub­lic­a­tion featuring ladies in nice dresses and it is read by Important Fashion People and Rich People and stuff like that.)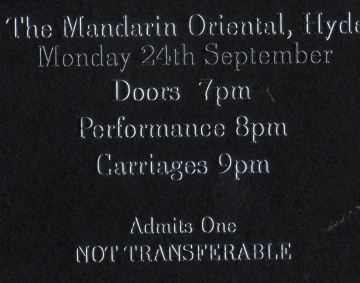 » It's at The Mandarin Oriental. (FYI The Mandarin Oriental is a posh hotel near HARRODS where The Well Off stay when they are in London. We spent an afternoon there once in a suite with Blue while they were trying on clothes for a video shoot, and we saw Duncan James in his pants with what appeared to be 'a semi'.)
» IT'S IN THE BALLROOM!!!
» It finishes at 9pm. This is usually billed as 'free bar finishes at 9' or 'everyone is kicked out'. What happens at the Leona showcase? Carriages. CARRIAGES! (FYI 'carriages' actually means 'free bar finishes and everyone is kicked out'.)
Everybody under­stood (believed) this to be a big deal before they'd even arrived. And what's another way of making sure everyone who attends knows it's A Big Deal? Don't give them a sticker and a set of badges on the way out — make sure everyone takes home a brand new Sony Walkman MP3 player, because nothing makes a media rep­res­ent­at­ive think more fondly of a showcase night than watching the bids flow in on eBay.
Everything about this campaign has been stuffed with such import­ance, and has been billed as such an 'event', that even Leona's chart positions come through from her PR company, every Sunday afternoon, STRICTLY EMBARGOED (ie EXCITING) until, er, ten minutes after it's announced on Radio One.
A lot of this is about how things have been presented to the media — who then relay their beliefs to the public — but it's there for the public, too. The stunning X Factor per­form­ance of 'Bleeding Love' was a defining point, of course, as was this per­form­ance on Children In Need and, more import­antly, its intro­duc­tion. Could you imagine Simon Cowell, Sharon Osbourne, Dannii Minogue and Louis Walsh going on TV to — with absolute sincerity — proudly present Steve Brookstein to the nation?
httpv://www.youtube.com/watch?v=7yeQtGkwuGo

And while 'Bleeding Love' has taken on that sort of super­nat­ural success enjoyed by 'Umbrella', meaning that it's being covered on YouTube by loads of people…
httpv://www.youtube.com/watch?v=E1rJMV76jeU

…there have been other parts to the clever Leona campaign too. Some have been fairly subtle, like the incen­di­ary Snow Patrol cover on Jo Whiley's show, and the tagline used in the album's ad campaign and on the CD sticker: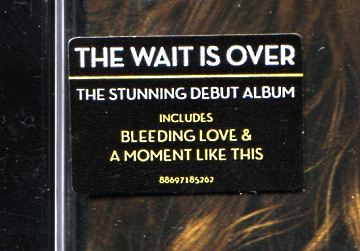 The Wait Is Over. What wait? Before September, Leona could have never released another recorded note and the country would very happily have continued going about its daily business. This is a wait which has been bril­liantly man­u­fac­tured — an almost impossible task these days and one which is even trickier to pull off when the artist in question is linked to X Factor.
Nice hair as well.