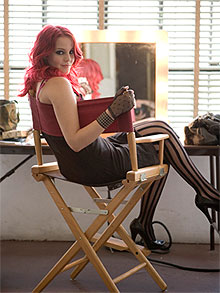 You literally could not make this up: Molly from The Faders has signed an album deal with Innocent and her debut single is… 'No Sleep Tonight'.
(Historical note: 'No Sleep Tonight' is the song The Faders took to Number 13 LAST YEAR.)
Molly is now calling herself Molly McQueen, which must come as a blow
to anyone who's tattooed any of her other names (Molly Ure, Molly
Lorenne, etc etc) across their face.
We have asked Molly's people if this is in fact a joke and they say no, it is not.
In spite of the fact that it is ACTUALLY BRILLIANT and SHOULD HAVE BEEN NUMBER ONE THE FIRST TIME ROUND, we don't really under­stand why this record is coming out again, so we've asked Molly to explain herself.
Notes Molly:
1)
"The song is in an amazing new movie 'My Super Ex Girlfriendâ? starring Uma Thurman, Luke Wilson and Eddie Izzard – what a legend."
2) "I think it's a brilliant track and I did sing it the first time round! Plus 'The Faders� had already split up and Cherisse and Toy are fine about it. We didn't want some other bugger recording and releasing it!"
3) "The song has been picked up by loads of people including 'ROKR/Cingular Wireless� in the USA for a massive phone advert."
4) "Since its release the track also been used as the opening song in the movie 'She's The Man�, plus it's been played on 'Sugar Rush� on Channel 4. I even appear in an upcoming episode of US TV show 'Veronica Mars� singing the song!"

5) "I think it would be silly not to take the oppor­tun­ity to release it again and help launch my solo career!"
So that clears that up, then.