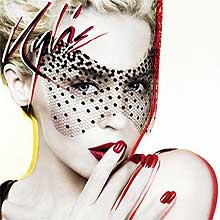 For fans of pop music a new Kylie album is a big event and 'X' was the biggest of her 20-year career. When we first received the album a couple of months before it was released, it seemed brilliant. After a few weeks its appeal had faded. It seemed like a 6/10 sort of album — slightly above average and, for that reason, an average Kylie album.
On Popjustice and elsewhere, we and other Kylie fans debated 'X'.
A&R decisions were dis­cusssed; Kylie's own involve­ment was ques­tioned. Should she have been more hands on — or more hands off? What of William Baker's influence on the process? Should the album have been pure pop or aggress­ive electro, or was a confused mix off the two what the public actually wanted? Perhaps it should have been neither pop or elec­tronic music, and new styles should have been covered. Perhaps 'X' should have been torch ballads. Lyrically, meanwhile, should it have expli­citly addressed her exper­i­ences from the last few years, or do fans really want Kylie to be a trouper, to carry on without reference to her private live, business as usual?
Listening to the album now, in a new year and with the weight of expection having lifted, it's a different album; better than we thought. So we were wrong to give it its 6/10 rating, because it is in fact 6.25/10.