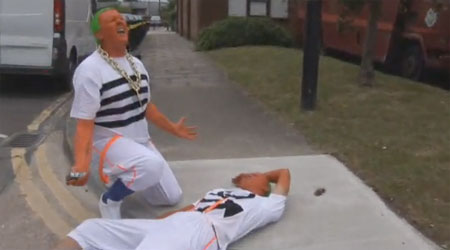 It's not every Sunday evening you get an email from ONE OF THE BLOODY BLACKOUT CREW.
Hi
my names Tony from the blackout crew "the chirpy chap with the donko­matic 5000"
Yes Tony we are aware of your work.
Just wanted to inform you on a new blackout crew video and single "Rumpa Pumpa" based on willy wonka
or Willy Donka ??
Hopefully the former.
This is a link to the making of the video " that we did for a laugh" i havent got a youtube version of the proper track as yet, but thought i would give you a heads up before it's out
niice 1
Tony
Niice 1 indeed. Here's the making-of video.
httpv://www.youtube.com/watch?v=C‑BV8dlB1Uo

(?!!)