They don't write, they don't call, they don't tweet, and they only text when they want something.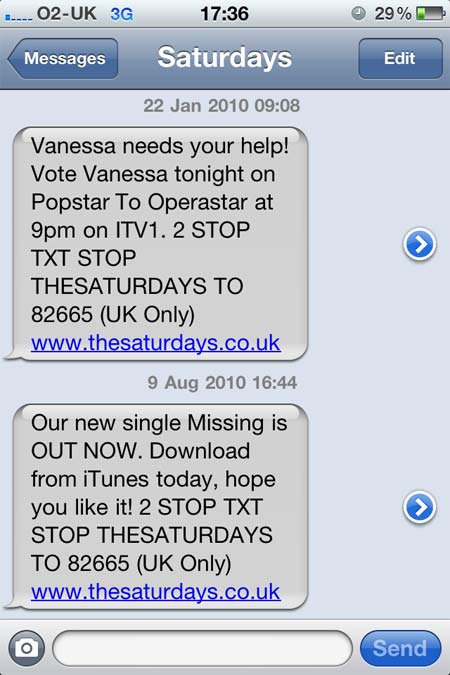 Is this what it is like being a parent? Is it normal to feel this sort of 'oh what do they want now?' feeling whenever a text arrives?
We don't really want to feel like this. We want to feel excited when a Saturdays text arrives. We want it to think "OH GOD THIS MIGHT BE SOME BRILLIANT TIPS ON HOW TO GET THE SATURDAYS' STREETSMART STYLE" or "OMG PERHAPS UNA HAS DONE ANOTHER SENSITIVE 'N' BROODIN' ACOUSTIC YOUTUBE THING" or "FRANKIE JUST WANTS A CHAT ABOUT HOW EVERYTHING'S GOING". We want to feel that hope. Instead all we feel is despair.
Speaking of despair, we mentioned this on Twitter a week or so ago but as it turns out 'Missing You' is not (NOT) all awful and is, in fact, quite good.
"AN APOLOGY TO THE SATURDAYS"
Dear The Saturdays. Your new single is not as bad as we thought it was and is in fact quite 'good' although the dance routine is a little on the ropey side and that is solid unchange­able the-years-will-not-weather-it pop fact.
'Fin'.