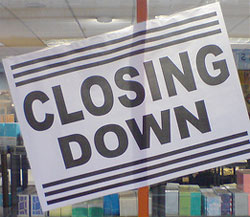 Stop all the clocks, cut off the telephone, stand outside in the street because the toilets have flooded and the fire alarm's gone off: next Friday will be the very final Club Popjustice at Trash Palace as the owners have finally managed to flog the place.
We are 'out on our ears' etc.
To celebrate we're having a MASSIVE EVERYTHING MUST GO CLOSING DOWN SALE on May 1, the nature of which has not yet been decided.
What we do know is that the final song we play will be the result of a public vote so get your sug­ges­tions in to [email protected] and we'll count up the results next Thursday.
We are welling up here viewers. We know you too will be upset about this but all we can do is appeal for calm at this difficult time.
PS: WE WILL NOT FORGET.