If you saw Kelly Rowland belting out 'Commander' on The Graham Norton Show you will have seen something quite incred­ible in the shape of The Kelly Rowland Commander Salute.
It goes like this.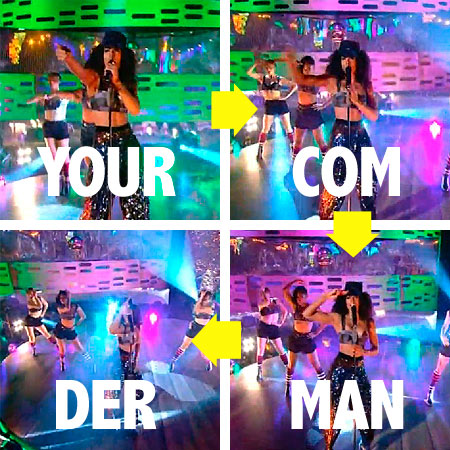 It is a perfectly realised pop dancemove and thanks to the magic of tech­no­logy you can relive The Kelly Rowland Commander Salute again and again and again — it's at 0:51.

[youtube]0pERFzmAObs[/youtube] In fact there are plenty of amazing portions in that video.

0:00 onwards — Studio audience clapping along to pop tune, a terrible act of which we are not a fan.
0:14 — A good spoken intro explain­ing that this is the new single, informing an unim­pressed audience that the producer is David Guetta.
1:16 — Kelly Rowland thinks she is at the wrong bit of the song.
2:21 — 'Graham Norton where you at, I know you got my back.'
2:27 — Good audience interaction.
2:50 — Example of extreme clapalong from Graham Norton.

Hurrah.