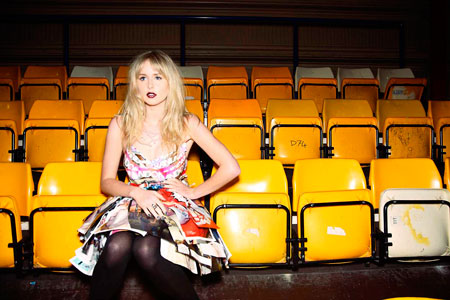 Is 'My Wicked Heart' the title of the new Diana Vickers single?
Yes it is.
Was 'My Wicked Heart' on Diana Vickers' very-recently-released very-ridicu­lously-titled debut album?
No it was not — this is a new song. It will be chucked onto a new edition of the afore­men­tioned 'LP'.

This is a con and I intend to firebomb the music industry.
We really don't think anybody is expecting hordes of Vicko fans to buy the album again, it's probably more aimed at con­vin­cing the first-time-buyer market.
What does it sound like?
Florence doing 'Under The Bridge' via 'Crazy Chick' with some big brassy other things thrown in. It is a little bit bonkers and quite a lot amazing.
What's the best bit of the song?
An amazing "WHOOP" bit.
What are the other key facts?
The song is two minutes and fifty three seconds long. It opens with the line "hush hush stay quiet, your secret's safe with me". There is a great "whoops-a-daisy" bit in the middle eight. It sounds — as they say — 'like a hit', and it's out on November 7.

What's happening in the picture above?
That's Diana at the 2010 Eoghan Quigg Fan Convention. (It's from Random mag.)