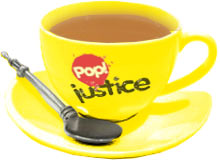 What's being listened to by people who aren't Popjustice.com? Let's find out…
Nelly Furtado, pop singer
Rihanna — 'Unfaithful'
"I like Neyo's stuff and I like Rihanna's stuff, so this fits right in. And the video director for 'Maneater' shot the video – it's really cinematic and beautiful. I just really like what the new young R&B stars are doing. I think it's really cool. I knew 'Rescue Me' would be huge in London, too – it made me think of Sugababes."
Simon B, blogger, No Rock 'N' Roll Fun
The Loft — 'Model Village'
"I'm old enough for my excite­ment at their return to be suf­fi­cient to overlook how ropey Pete Astor's voice has gotten while they've been away."
Ian Broudie, pop singer
Ripchord demos
"I'm mainly listening to demos at the moment. There's a band called Ripchord who I really like – they've got some fantastic demos and I'd love the chance to work with then. Other than that, I've been listening to 'The Only Living Boy In New York' on my iPod. I'm very up with the current sounds, aren't I? "
James Fern, music pro­gram­mer, The Box
Paris Hilton — 'Stars Are Blind'
"With an opening that could be mistaken for 'The Tide is High', this summery anthem combines 'Gwen Stefani-tinged' vocals with a catchy reggae hook. The accom­pa­ny­ing video features the afore­men­tioned hotel heiress writhing around on a beach with a mystery fella — a surefire hit that will not cool down in the coming months!"
Send in your own PJ Tips! Chuck them over to the usual address — [email protected]@popjustice.com .