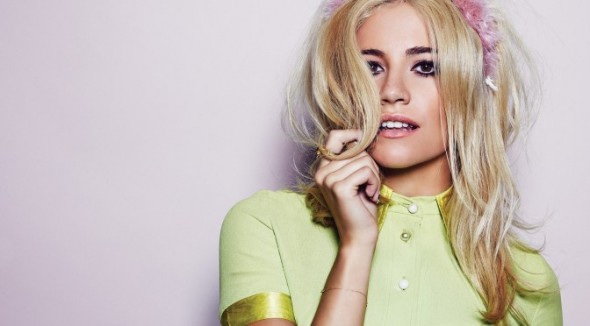 We like to laugh at Pixie Lott don't we. How we laugh!
HA. Pixie Lott with her songs that aren't selling as well as the songs that sold well.
HA HA. Pixie Lott with those endorse­ment deals she does that aren't quite as classy as those endorse­ment deals Beyoncé does.
HA HA HA. Pixie Lott with her appear­ance on Strictly Come Dancing.
HA HA HA HA. Pixie Lott who has the audacity to carry on with her career even though you listen to 'Boom Clap'.
HA HA HA HA HA. Pixie Lott with her covetable lifestyle, her strong vocal talent, her double platinum debut album, her eye-water­ingly hot model boyfriend and her decent public profile, but let's ignore all the stuff she's got going for her because HA HA HA HA HA HA.
It's no secret that Pixie's most recent comeback single 'Nasty' was a load of old shit and the last thing she needed at a point in time when only a certified belter would really have done the trick in terms of full-on career resus­cit­a­tion, and it's also true that 'Break Up Song' is a good song.
So what do we all do?
Do we as music fans ignore this good single because other people consider Pixie Lott a laughing stock? Or do we say, actually, fuck that, let's give it a few listens over the next few weeks, let's enjoy it when it's on the radio (caveat: this song will probably not be on the radio for reasons outlined below), and let's maybe come across it a few years from now quite by accident and think to ourselves "actually do you know what it's nice to hear this again"?
Obviously it is the year 2014. XCX AD. 'Break Up Song' doesn't really sound very 2014 any more than Pixie Lott seems like the sort of artist who'd get a record deal in 2014. But are we so obsessed with living every minute of our lives on the bleeding edge of pop that every song we let into our ears has to have MNEK or someone off The Hype Machine or one of Dr Luke's team somewhere in the writing and pro­duc­tion credits, or a sodding banjo in the mix?
'Break Up Song' is a good song. It is not a song that will change the world. It is not the second coming of 'We Found Love'. It's somewhere above a 6/10 and somewhere below a 7/10.
Yes, we know, 'good enough' isn't good enough. Demand excel­lence at all times from all popstars. Blah blah blah. But are there so many a‑list world class 10/10 Max Martin-level epic bangers floating around that we can consume a balanced pop diet by only listening to those songs?
You don't have to buy Pixie's album. In fact we'd strongly suggest you don't, because it's not very good. But that's not the point. The point is that not everything in pop has to be your next obsession. It's fine to just like something. You don't have to spend £18.99 (or whatever Pixie's rate is) on a VIP meet and greet ticket. You don't have to declare your undying love for Pixie Lott on Facebook. You don't have to get "MAMA DO" tattooed repeatedly up and down the length of your cock.
Pop music needs its Charlis. But sometimes it also needs its Pixies. It needs people who'll knock out a good song every now and again. It needs popstars who'll turn up on time, sing a good song well and get out.