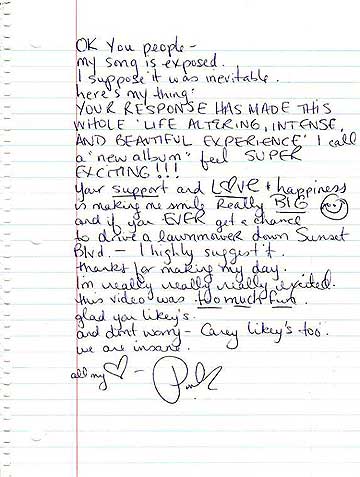 Yesterday, Pink posted the above note on her MySpace page as a response to the fact that her ACTUALLY LITERALLY BRILLIANT comeback single 'So What' has leaked on the internet.
From her hand­writ­ing we can deduce that:
1. Pink is a lady.
2. Pink has blonde hair, but sometimes it is other colours, like brown or pink.

3. Pink has achieved a high level of success over the last few years with hits including 'Family Portrait' and 'U + Ur Hand'.

4. Alicia Beth Moore (born on September 8, 1979[1]), known pro­fes­sion­ally as Pink (often stylized as P!nk), is a two-time Grammy-winning American singer-song­writer who gained prom­in­ence in 2000. Pink released her first record, the R&B‑oriented Can't Take Me Home, in 2000 via LaFace Records. Her pop rock-based second studio album, M!ssundaztood, was released in 2001 and is her biggest seller to date. Her third album, 2003's Try This, failed to match the success of M!ssundaztood. After taking a break, Pink released her fourth studio album, I'm Not Dead (2006), which was suc­cess­ful worldwide. Pink has so far sold over 23 million albums worldwide, and has her next album scheduled to come out in October of the year 2008.
Contents
[hide] * 1 Childhood and discovery
* 2 Musical career
o 2.1 2000–2001: Can't Take Me Home
o 2.2 2001–2002: M!ssundaztood
o 2.3 2003–2005: Try This
o 2.4 2006–2008: I'm Not Dead
o 2.5 2008-Present: Fifth studio album
* 3 Acting career
o 3.1 Filmography
* 4 Personal life
o 4.1 Marriage
o 4.2 PETA
o 4.3 Charity Work
* 5 Discography
o 5.1 Albums
o 5.2 DVDs
* 6 Tours
o 6.1 Headlining
o 6.2 As sup­port­ing act
* 7 Awards
* 8 References
* 9 External links
[edit] Childhood and discovery
P!nk was born in Doylestown, Pennsylvania to Vietnam veteran Jim Moore and nurse Judy Kugel. She is of German and Irish ancestry on her father's side, and is Lithuanian-Jewish on her mother's side.[2][3] P!nk has iden­ti­fied herself as a "Irish-German-Lithuanian-Jew"[4].[5] She grew up in Doylestown, Pennsylvania, where she attended Central Bucks West High School. Her father played guitar and sang songs for her, and from an early age she aspired to be a rock star. When in high school, P!nk joined her first band called Middleground, which never gained pop­ular­ity beyond local status. According to P!nk, her biggest influ­ences are Janis Joplin, Steven Tyler, Bad Religion, Mary J. Blige, Bob Marley, Billy Joel, Indigo Girls, Don McLean, 2Pac and The Notorious B.I.G..[6] P!nk developed her voice early in life.[7] Although a healthy baby at birth, she quickly developed asthma that plagued her through her early years.[8] When she was a young teenager, P!nk wrote lyrics as an outlet for her feelings, and her mother commented, "Her initial writings were always very intro­spect­ive. Some of it was very black, and very deep, almost worrisome."[8] She began per­form­ing in Philadelphia clubs when she was fourteen years old. At sixteen, she joined the R&B Atlanta-based trio Choice, which included Chrissy Conway of the Christian girl group ZOEgirl. The group signed with LaFace Records and con­trib­uted "Key to My Heart" to the soundtrack of the 1996 film Kazaam. Choice even­tu­ally disbanded after recording an unre­leased album; P!nk remained at LaFace as a solo act under the stage name P!nk. Daryl Simmons took her to record­ings where she sang backing vocals for artists such as Diana Ross, 98 Degrees, Kenny Lattimore and Tevin Campbell.
[edit] Musical career
[edit] 2000–2001: Can't Take Me Home
Main article: Can't Take Me Home
Pink co-produced her debut album, Can't Take Me Home, with Babyface and Steve Rhythm, and released it in April 2000. A sub­stan­tial success, it went double platinum in the U.S., sold 5 million copies worldwide and produced two U.S. top ten singles: "There You Go" and "Most Girls" (which reached number one in Australia). The album's third single, "You Make Me Sick", became a smaller U.S. top forty hit and UK top ten hit in early 2001 and was featured in the film Save the Last Dance. Pink later acknow­ledged, with regard to Can't Take Me Home, that she chose to relin­quish creative control to her record label and that she did not like the music she made at this time or her image,[9] which included bright pink hair.
In 2001, she recorded a cover of Labelle's 1975 single "Lady Marmalade" with Christina Aguilera, rapper Lil' Kim and Mýa for the soundtrack of the film Moulin Rouge!. Produced by hip-hop producers Rockwilder and Missy Elliott, the song topped the charts in countries including the UK, Australia and the U.S., where it became the most suc­cess­ful airplay-only single in history.[10] The success of the single was helped by its music video, which was popular on music channels[11] and won the MTV Video Music Award for Video of the Year.[12] The song won a Grammy Award — Pink's first — for Best Pop Collaboration with Vocals, and provided a boost for the four per­formers' careers.[13] [edit] 2001–2002: M!ssundaztood
Main article: M!ssundaztood
Tired of being marketed as another cookie-cutter pop act and eager to become a more serious song­writer and musician, Pink took her sound in a new direction and sought more creative control during the recording of her second album.[9] She recruited former 4 Non Blondes vocalist Linda Perry, who said Pink opened up to her: "In the beginning I just said: "What do you feel?", and she [Pink] would just sit behind the piano and sing".[13] Perry co-wrote and co-produced the album with Dallas Austin and Scott Storch, and according to VH1 Driven, Antonio "LA" Reid of LaFace Records wasn't initially content with the new music Pink was making.[13] The album, named M!ssundaztood because of Pink's belief that people had a wrong image of her,[14] was released in November 2001.
Its lead single, "Get the Party Started" (written and produced by Perry), went top five in the U.S. and many other countries, and number one in Australia. At the 2002 MTV Video Music Awards, the music video won in the cat­egor­ies of Best Female Video and Best Dance Video. The album's other singles—"Don't Let Me Get Me", the Dallas Austin-produced "Just like a Pill", and "Family Portrait"—were also radio and chart successes, with "Just like a Pill" becoming Pink's first solo UK number-one hit. The singles were sub­stan­tial hits on adult Top 40 radio and the United World Chart, and "Family Portrait" became a theme song for many children whose parents were divorced (according to MTV Diary). M!ssundaztood was certified gold or platinum status in more than twenty countries,[15] with worldwide sales of 16 million.[16] It was the second-best-selling album in the UK during 2002, and Pink was the best-selling female artist globally.[17] M!ssundaztood and "Get the Party Started" earned nom­in­a­tions at the 2003 Grammy Awards for Best Pop Vocal Album and Best Female Pop Vocal Performance, respectively.
The 2002 Faith Hill album, Cry, features a song co-written by Pink and Perry. In 2002, after opening for 'N Sync on their American tour, Pink started a head­lining American, European and Australian tour, the Party Tour; later, she became a sup­port­ing act for Lenny Kravitz's American tour.
[edit] 2003–2005: Try This
Main article: Try This
In mid-2003, Pink con­trib­uted the song "Feel Good Time" to the soundtrack of the film Charlie's Angels: Full Throttle, in which she had a cameo appear­ance as a motor­cross race ramp owner/promoter. "Feel Good Time" was co-written by singer Beck, produced by elec­tronic music artist William Orbit and based on the song "Fresh Garbage" by the band Spirit. It became Pink's first single to miss the top forty on Billboard's Hot 100 chart, although it was a hit in Europe and Australia. During the same period, a song Pink co-wrote with Damon Elliott was released on Mýa's album Moodring.
"Feel Good Time" was included on non‑U.S. editions of Pink's third album, Try This, which was released on November 11, 2003. Eight of the thirteen tracks were co-written with Tim Armstrong of the band Rancid, and Linda Perry was featured on the album as a writer and musician. Though Try This reached the top ten on album charts in the U.S., Canada, the UK and Australia, sales were con­sid­er­ably lower than those of M!ssundaztood; it went platinum in the U.S. and sold over 3 million copies worldwide, a com­mer­cial flop compared to its predecessor.[18] The singles "Trouble" and "God Is a DJ" did not reach the U.S. top forty but went top ten in other countries, and "Last to Know" was released as a single outside North America. "Trouble" earned Pink her second Grammy Award (for Best Female Rock Vocal Performance) at the 2004 Grammy Awards, and "Feel Good Time" was nominated in the category of Best Pop Collaboration with Vocals. She toured extens­ively on the Try This Tour through Europe and Australia, where the album was better received. In 2005 she col­lab­or­ated with her good friend Lisa Marie Presley on the track Shine, on Presley's second album Now What.
[edit] 2006–2008: I'm Not Dead
Main article: I'm Not Dead
P!nk took a break to write the songs for her fourth album, I'm Not Dead, which she said she titled as such because "It's about being alive and feisty and not sitting down and shutting up even though people would like you to."[19] Pink worked with producers Max Martin, Billy Mann, Christopher Rojas, Butch Walker, Lukasz Gottwald and Josh Abraham on the album.
It was released in April 2006 through LaFace Records was a sub­stan­tial success through­out the world, par­tic­u­larly in Australia. The album reached the top ten in the U.S., the top five in the UK, number one in Germany, and sat at number one in Australia for a great many weeks.[20] but it was Pink's lowest seller in the U.S. until the success of the single "U + Ur Hand" in early 2007. Worldwide, the album was the tenth biggest selling album of 2006. The album ranked 96th in the USA during 2007. [1][21] Lead single "Stupid Girls" was Pink's biggest U.S. hit since 2002 and earned a Grammy Award nom­in­a­tion for Best Female Pop Vocal Performance. Its music video, in which she parodies celebrit­ies such as Lindsay Lohan, Jessica Simpson and Paris Hilton,[22] won the MTV Video Music Award for Best Pop Video. Subsequent singles "Who Knew" and "U + Ur Hand" were sub­stan­tial hits in Australia and Europe, and they later became top ten singles in the U.S. in 2007. The non‑U.S. singles were "Nobody Knows", a minor hit in the UK, Australia and Germany; "Dear Mr. President", an open letter to American President George W. Bush and a top five hit in Germany, Australia and other coutries; "Leave Me Alone (I'm Lonely)", a UK top forty and Australian top five entry; and "'Cuz I Can".
The album has sold over 1,1 million copies in the U.S., over 630,000 in Australia, and over 6 million worldwide. Proving very popular in Australia, with 6 top five singles, and a record breaking 62 weeks in the top 10, so far the album has gone 9 times platinum. Even as of June 2008 the I'm Not Dead album returned to the Australian Top 40 ARIA charts and remained there in July 2008 — a total of 100 weeks in the Australian top 40 to date.[23] In support of the album, Pink embarked on the world I'm Not Dead Tour, for which ticket sales in Australia were par­tic­u­larly high—she sold approx­im­ately 307,000 tickets in Australia, giving her the record for the biggest concert attend­ance for an arena tour by a female artist.[24] One of the shows on the tour was taped and released as a DVD, Pink: Live from Wembley Arena. In 2006, Pink was chosen to sing the theme song for NBC Sunday Night Football, "Waiting All Day for Sunday Night", which is a take on "I Hate Myself for Lovin' You" by Joan Jett. She con­trib­uted a cover of Rufus's "Tell Me Something Good" to the soundtrack of the film Happy Feet, and lent her name to PlayStation to promote the PSP, a special pink edition of which was released.[25] Pink per­form­ing on the I'm Not Dead summer tour in 2007
Pink per­form­ing on the I'm Not Dead summer tour in 2007
Pink col­lab­or­ated with several other artists in 2006 and 2007, when she opened for Justin Timberlake on the American leg of his FutureSex/LoveShow Tour. She was featured on a remix of India.Arie's song "I Am Not My Hair" featured in the Lifetime Television film Why I Wore Lipstick to My Mastectomy. She wrote a song ("I Will") for Natalia's third album, Everything & More. "Outside of You", another song she co-wrote, was recorded by dance-pop singer Hilary Duff and released on her 2007 album Dignity. Pink recorded a song with Annie Lennox and twenty-two other female acts for Lennox's fourth solo studio album, Songs of Mass Destruction. Titled "Sing", it was written as an anthem for HIV/AIDS, according to Lennox's official site.[26] In December 2007, a special edition Pink Box, which comprises her second to fourth albums and the DVD Live in Europe, was released in Australia and reached the top twenty on the albums chart and was credited gold(35,000+).[27] [edit] 2008-Present: Fifth studio album
Main article: Pink's fifth studio album
On February 20, 2008, Pink poted a message on her website dis­cuss­ing her sep­ar­a­tion from her husband Carey Hart and to confirm that she is working on a new album.[28] On March 31, 2008, a Dutch music store published an album and DVD release list on their website, stating that in October 2008 a new album from Pink will be released in stores.[29] On June 16th 2008 — P!nk's Manager confirmed that P!nk was in fact working on her album and was due to release it in October if all goes well. This story is taken from Late News Channel Ten in Astralia. Also during June, producer Danja wrote in a MySpace bulletin that he was working on tracks for P!nk as well as other artists.
On July 15th 2008, The Official Pink Site posted behind the scenes photos of the singer in the studio. The black and white pictures show P!nk recording her new album.[30] Later that month, it was announced that the new album will be released in America on October 28, 2008[31], and on October 25 in Australia.[32] On August 18th 2008, Pink's next single, So What, goes for radio adds.[33] On August 7th 2008, Pink's first single So What is leaked online, and radio stations across Australia are quick to give it massive airplay, par­tic­u­larly Nova. After less than 6 hours from the leak, it is voted #1 on Fox and Nova 100 Melbourne.
[edit] Acting career
Pink appeared as herself in the films Ski to the Max (2000) and Rollerball (2002). After her cameo per­form­ance in Charlie's Angels: Full Throttle, she appeared in the horror film Catacombs, which co-stars Shannyn Sossamon. "It's pretty intense", she said. "It's not only a sort of slasher type, scary movie; it's also psy­cho­lo­gical and shows how mean and cruel siblings can be to one another. I liked that part of it."[34] She was once on the short list of people to play Janis Joplin in an upcoming biopic titled Gospel According to Janis, but she chose not to, saying it would be dis­respect­ful to Joplin because the film makers didn't want to say she died of a heroin overdose. "All I can say at this point is that if Janis wants the film to be made, it will be made", Pink said in 2006.[35] Sony Pictures Entertainment has expressed interest in making a second sequel to Charlie's Angels, as has star and producer Drew Barrymore, who is reportedly con­sid­er­ing Pink for a role in the film. Pink said, "I hope that I get to play my role as a bad girl."[36] [edit] Filmography
Year Title Role
2000 Ski to the Max As Herself
2002 Rollerball Rock singer
2003 Charlie's Angels: Full Throttle Coal bowl starter
2007 Catacombs Carolyn
[edit] Personal life
[edit] Marriage
Pink proposed to motocross racer Carey Hart in 2005 by doing his pit boarding and then asking him to marry her during one of his races in Mammoth Lakes, California by holding up a sign with "Will you marry me?" on it. On the other side was written "I'm Serious!" After Hart read the sign, he almost caused an accident.[37] They married in Costa Rica on January 7, 2006 at sunset.[38] After months of spec­u­la­tion, Pink's publicist, Michele Schweitzer, told PEOPLE magazine on February 19, 2008, that the singer and Carey Hart had separated.[39] "This decision was made by best friends with a huge amount of love and respect for one another," Ms Schweitzer said. Pink met Hart at the 2001 X Games in Las Vegas.[40] Pink filed for divorce on February 21st, 2008. She is currently single and residing in California.
[edit] PETA
Pink is a prominent cam­paigner for PETA, con­trib­ut­ing her voice towards causes such as a protest against KFC (see Kentucky Fried Cruelty Campaign for more). She sent a letter to Prince William cri­ti­ciz­ing him for fox hunting and one to Queen Elizabeth II protest­ing the use of real fur in the bearskins of the Foot Guards and the Honourable Artillery Company. In November 2006, Pink mentioned in the News of the World that she was disgusted with fellow singer Beyoncé for wearing fur. In con­junc­tion with PETA, she cri­ti­cized the Australian wool industry over its use of mulesing. In January 2007, she stated that she had been misled by PETA about mulesing and that she had not done enough research before lending her name to the campaign.[41] Her cam­paign­ing led to a head­lining concert in Cardiff, Wales on August 21, 2007 called PAW (Party for Animals Worldwide). This high­lighted her involve­ment with animal cruelty problems, as well as her unswerving com­mit­ment to con­trib­ut­ing her voice towards such causes.
[edit] Charity Work
Pink's is involved with many charities including "Phoenix vert" (www.phoenixvert.com), Human Rights Campaign, ONE Campaign, Planned Parenthood, Princes Trust, Run For The Cure Foundation, Save the Children, Take Back the Night, UNICEF and World Society for the Protection of Animals.[42] As of May 2008 P!nk has been offi­cially recog­nised as an advocate for the RSPCA in Australia.
It is funny how much you can tell about someone from their handwriting.
If you haven't heard the single yet it really is very, very incredible.
httpv://www.youtube.com/watch?v=wi8-6uqol‑4

One of the things we like about it is that while it's super­fi­cially a howl of defiance you can't escape the fact that at the heart of this is an injured and self destruct­ive spirit coping very badly but in the only way she knows how. 10/10.