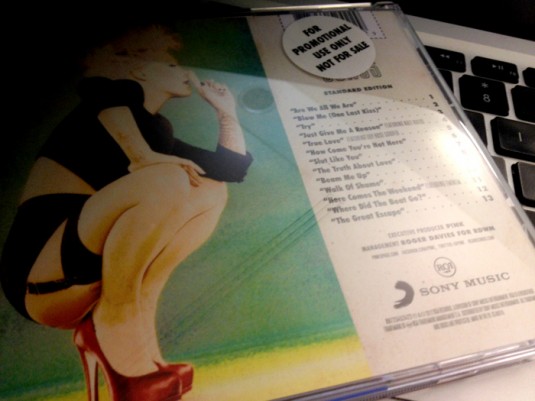 Yesterday afternoon we went to have a listen to some songs from Pink's new album, 'The Truth About Love'. Apols for the shoddy cam­er­a­phone picture but it's the best we could do.
We like Pink. We're not mental Pink fans but she always knows when she has to deliver the goods ('the goods' being 'at least five exciting moments per album, usually more') and kicking things off with 'Blow Me (One Last Kiss)' has certainly set the stage for something quite spectacular.
Here are 25 things about the album. Five per song. Some of the points are a bit flaky 'TBH' but put that down to the fact that we were OVERCOME BY POP.
ARE WE ALL WE ARE
1. Starts off with live drums and crowd noise so it sounds like the start of a gig, except it's just a CD, with a spooky spirally kind of sound and Pink's chant of "ARE WE ALL WE ARE, ARE WE ALL WE ARE".
2. It is the perfect album opener, but not really single material.
3. The tempo is mid.
4. We don't actually know what this is about. "We are the people that you never get the best of, not forget the rest of," Pink notes in the fiery chorus. Is it another one about those who live on the fringes of society etc etc etc? Perhaps. Perhaps not.
5. Actually by the end of it you do start to think that it might work as a single, but there are more single-worthy tracks still to come. Such as:
JUST GIVE ME A REASON
6. This features Nate from fun..
7. It is a big sad but optim­istic but mainly sad ballad about a couple pre­tend­ing that they can "learn to love again" when in fact it is quite obvious that the whole thing is over and they should just move on. It's a song about hanging on to a memory, neither party accepting respons­ib­il­ity for the fact it's over, and so on. Lyrically, of all the songs we heard it sounds the closest to something one might have found on 'Funhouse'. :(
8. Pink takes the first verse ("you've been talking in your sleep, things you never say to me, you tell me that you've had enough of our love") which leads into the pleading chorus: "Just give me a reason just a little bit's enough, just a second we're not broken, just bent, and we can learn to love again". Nate takes verse two: "sorry, I don't under­stand where all of this is coming from … this is all in your mind … you've been having real bad dreams" with Pink dis­agree­ing between the lines. They both take the second chorus.
9. There's a sen­sa­tional bit of emptiness where Nate sings "nothing is as bad as it seems" and the song sort of stops a bit.
10. This is tremendous.
TRUE LOVE
11. Lily Allen is on this but you need to wait until the middle eight for that explosion of amaz­ing­ness to occur.
12. It's mid-tempo but also a banger. It's a mid-tempo banger.
13. This is a song about loving someone and hating them and knowing that the hate means it's proper love and so on. "Sometimes I hate every single stupid word you say, sometimes I want to slap you in your whole face," Pink begins. "There's no one quite like you, you push all my buttons now — I know life would suck without you. At the same time I wanna hug you I wanna wrap my hands around my neck. You're an asshole but I love you…" We suppose this is either Pink-by-numbers or Pink-in-excelsis. We like Pink so we'll go for the latter.
14. Lily's bit involves storming in and singing "why do you rub me up the wrong way? Why do you say the things that you say? Sometimes I wonder how we ever came to be. But without you I'm incom­plete". It sounds like Lily Allen. Well it is Lily Allen, obviously, but for a moment it feels like we're in the middle of a Lily song. So much so that you forget your're supposed to be listening to a Pink song, but then Pink comes back in the for last chorus to remind you what's what.
15. The best line is "repeat afte me: R‑O-M-A-N-C-E-E‑E ".
HOW COME YOU'RE NOT HERE
16. There's a bit of a 'Personal Jesus' feel to this one. It's a tune about Pink's fella being 'out and about' and Pink not being too happy about the situation, par­tic­u­larly as "I've heard some rumours about another girl, I've heard she's cute but she still looks like a squirrel".
17. "You're like Santa Clause, you're like white noise on my favourite song." Quite a good lyric.
18. This one's a bit of a romp, all told.
19. There is a chorus that can only be described as rip-roaring, with Pink bellowing "Are you hiding in the closet? Are you under­neath the bed? Did you go for a long walk off a short pier, how come you're not here?"
20. On the first listen it feels like standard Pink; by the second it feels like an obvious hit.
HERE COMES THE WEEKEND
21. Eminem's on this one. Again, you need to wait a while for MM to turn up and do his star turn.
22. The chorus is a big "here comes the weekend, set off your sirens" chant.
23. As the evidence so far would suggest, it's a song about having a pretty good time ("tearing up the night", if you please) on a Friday or a Saturday evening, although probably not on Sunday because let's face it we've all got work on Monday.
24. We'll be honest with you hear, readers: we were able to listen to this song twice and we couldn't make head nor tail of most of the Eminem bit. We managed to write down "big city lights", "hot diggity", "…this building cos I'm tearing it down" and "security get out". There is one properly brilliant bit, though, when he goes "I swear the only thing I hear is the sound of sirens going 'erghege­hghe'".
25. There are assorted ref­er­ences to booze.
BONUS POINT FOR A VERDICTY THING
26. It's business as usual for Pink, which is good news con­sid­er­ing Pink's line of business is Being Incredible.