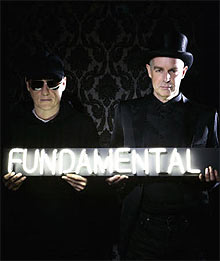 QUESTION ONE: Is there any better band on the face of the planet than the Pet Shop Boys?
ANSWERS
QUESTION ONE: No.
Here's Neil Tennant in the new issue of Pop magazine talking about working with Xenomania.
"We con­sidered approach­ing Xenomania for the last album, 'Fundamental'. Then we read that New Order were working with them … There's always been this syn­chron­icity between the record col­lec­tions of Bernard Sumner and the Pet Shop Boys, right from the word go. People have often thought mis­takenly that we were inluenced by 'Blue Monday' but actually Bernard was just influ­enced by the same records we were. Eurobeat, Italodisco, emerging New York hip hop … So we thought damn, can't believe it he's already got there. So we did that with Trevor Horn. But the tracks we started writing this year, most of them were pop, so we thought it was worth approach­ing Xenomania. We really didn't know that much about them. I very much liked the single 'Biology' by Girls Aloud. I think that was an amazing single. It's funny because it's nothing like anything Xenomania or Girls Aloud have ever done. It exists in its own world. It's quite sixties isn't it? Like so much of pop now … They're based out in Kent — that's quite important because it's a world of its own. It reminds me of Smash Hits … Personally, I could disappear into a room upstairs at Xenomania and become part of the factory writing songs for Girls Aloud. I'd be quite happy, actually."
He and Chris talk about some other stuff as well — the new issue of Pop is on (swank) news­stands now if you fancy picking it up…