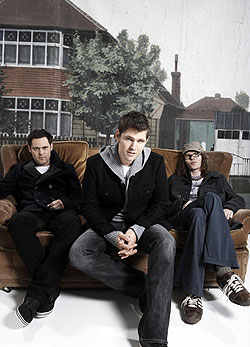 We'll be honest with you, readers: a few months ago we were slightly worried.

We didn't let on too much because we felt a respons­ib­il­ity not to prompt panic, riots, looting and so on, but when Scouting For Girls returned with a single that was not exactly awful and was in fact rather enjoyable we felt a deep sense of unhap­pi­ness and confusion. This feeling became an uneasy dread that we feared might even­tu­ally grip society as a whole and bring civilised life to an end. Very simply, we feared that 'This Ain't A Love Song' being brilliant could have brought about — or at least been a sign of — The End Of Days.

We can now be honest with you about these fears (and we do hope you are not angered by the difficult choice we made to keep these fears to ourselves) because pop equi­lib­rium is soon to be restored with the release of Scouting For Girls' track 'Famous', which was on Radio 2 yesterday so is probably their next single.

In naming their album 'Everybody Wants To Be On TV' Scouting For Girls did at least hint at this song's awfulness, but nothing can really prepare you for the absolute SHIT on display here.

Ten years after Big Brother first appeared on UK screens and nine years after Popstars, here is what Scouting For Girls have to say about the nature of modern celebrity. Don't forget they've had A DECADE to think about this.

[youtube]XQ4FtUn07SM[/youtube] We love this. We love how an attack on super­fi­ci­al­ity can be so crass and depthless, we love that its moronic tricks and hooks are the song­writ­ing equi­val­ent of a bargain-basement Channel 5 reality show 'best bits' montage, and we love that a band can be so lacking in self awareness that they hold reality TV — and not for example the success of their own inane twid­dlings — respons­ible for people thinking that anybody can become famous.

Is there anyone who will hear this and think "do you know what this serious 'n' thought provokin' message song has really opened my eyes to the true nature of celebrity"? Will anyone really think "I had been quite happily consuming main­stream popular culture without con­sid­er­ing the rami­fic­a­tions but the heartfelt musings of Scouting For Girls have certainly made me think twice about celebrity culture"? Anyone? Is anyone really so stupid that they have a) not already con­sidered this or b) might allow this woefully pat­ron­ising tune to alter their opinions? If you find that someone, lock them in a room forever. Or frame them for a crime they did not commit. At the very least break their legs and do whatever is necessary to stop them voting in tomorrow's general election.