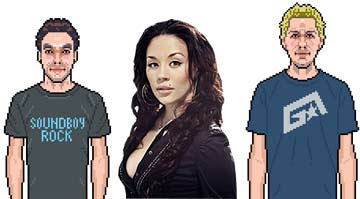 Jesus Christ did you see the end of The Culture Show on Saturday night? No, because you were watching Eurovision.
If you had watched it you would have seen Mutya and Groove Armada per­form­ing 'Out Of Control' (this is no bad thing in and of itself) live, with a band (and it gets worse) IN AN ACOUSTIC 'JAZZ' style.
Fortunately for anyone who missed it the per­form­ance is not yet on YouTube so you will be spared the sight and sound of one of 2007's greatest futurepop singles reduced to unlisten­able muso sludge and — we are not exager­rat­ing here — ruined forever.
We think someone needs to have a word with Mutya, pronto.