Amazingly, this has appeared on Britney's official site.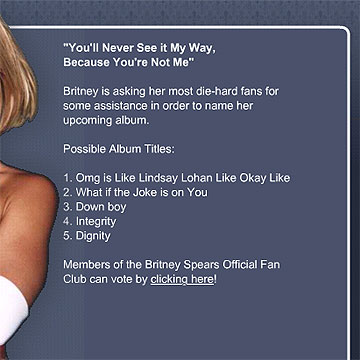 Out favour­ites are 'Members Of The Britney Spears Official Fan' and 'Club Can Vote By Clicking Here!'. Regarding the latter we don't think there is a precedent for under­lin­ing being an integral part of an album title. Certainly not in con­junc­tion with an exclam­a­tion mark
Other titles we like the idea of:
» 'If You Had A Zoom Lens Up Your Arse 24 Hours A Day You'd Have A Bit Of A Cry Sometimes As Well'
» 'I'm Not On Crack But I Might As Well Be'
» 'I Recorded Several Electronic Pop Masterpieces During The Sessions For This Album But Have Thrown Them In The Bin To Make Room For Some Unconvincing Hip Hop Jams'
» 'You'll Feel Guilty When I'm Dead'
» 'Has Anybody Seen My Bag LOL'
» 'I Looked In A Thesaurus For Words Like "Maturing" And "Reinvention" And "Misunderstood" And All I Got Was This Lousy Album Title"
That wasn't as funny as we thought it was going to be.