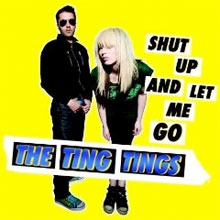 » This is finally 'in the shops' (ie in whichever shops are still selling singles to whichever music buyers are still pur­chas­ing them) today. But it is already in the Top 10.
» It has a scarily brilliant video which has notched up the best part of two million YouTube views in one month. It's a bit '7 Nation Army'-ish, com­pound­ing the view that The Ting Tings are pop's answer to a non-pathetic White Stripes.
» We were in a branch of discount book store Book Stop looking for something or other recently and had the mis­for­tune to hear some of Jo Whiley's show on the shop's radio. Jo was inviting listeners to call in with their ideas of what the song sounded like. We didn't really hear the sug­ges­tions over the sound of literally every person in the shop screaming at the very top of their voice OH GOD JO WHILEY PLEASE JUST FUCKING SHUT UP WE GET THE POINT.
» In the end we did not purchase anything in the shop, you will be sad to hear. We almost bought a CD-ROM of hilarious clip art for 99p but thought against it.
» The best bit in the video is when Katie goes 'HEY' and the word 'HEY' appears on the screen, although as Mrs Lambchop would point out, hay is for horses.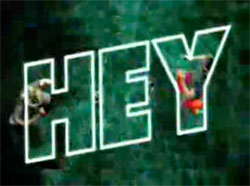 » Someone we had in for work exper­i­ence recently explained that she and her friends do not like The Ting Tings for the following reason: "she wears a hat on stage and he looks like a paedophile". (??!)
» Part of the reason this song is popular is that it is in an iTunes advertisement.
» The other part of the reason this song is popular is that it is very good indeed. Sometimes in pop that is all you need.