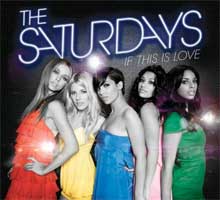 » 'If This Is Love' is finally in the shops 'and available to download' today.
» The pho­to­graph on the sleeve (right) is mis­lead­ing — the girls are not, in fact, shades of grey in real life. The pho­to­graph has simply been digitally altered to create this impres­sion although this fact is not acknow­ledged in the small print.
» Despite lame verses and a pointless Yazoo sample the song has a chorus so amazing that important people like RADIO ONE have decided it is alright to play their listeners in between Kooks and Wombats songs.
» It is the first song to be released in 2008 to sample fun-loving 80s hitmakers Yazoo. Other Yazoo-sampling songs due for release this year include 'Colour Me Dirty' by Red Blooded Women and one of the songs on the Rex The Dog album.
» Yazoo should cap­it­al­ise on this new wave of interest by reforming and playing a series of live dates around the world.
» The lyrics in the chorus do not make any sense, but nobody seems to think that this is very important.
» There's only one hand on only one hip on the single sleeve. When we do even­tu­ally unravel the top secret girlband hand/hip code we will know what this means.