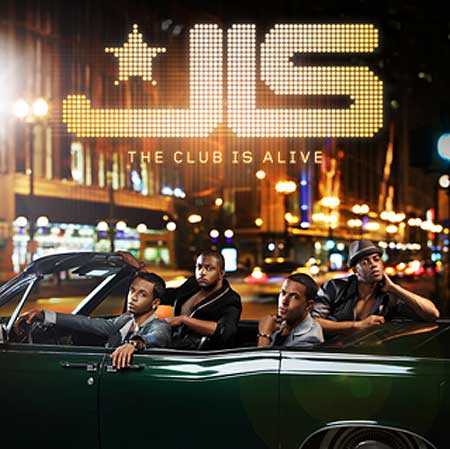 A. The fact that the car is green sends out a clear message that green is the most sig­ni­fic­ant 'JLS colour', thus implying that Marvin is the best, which he clearly is but that is beside the point.
B. Not one member of the band is wearing a seatbelt. If Oritse finds himself shunted from behind he'll lurch forward with the power of a thousand elephants.
C. Aston is not holding the steering wheel in the recom­men­ded 'ten to two' position, and has instead opted for the less popular 'midnight on a clock with a minute hand that's fallen off' pose — a driving stance not recom­men­ded by the AA since 1974.
D. One strong gust of wind could blow Oritse's hat right off, although this would not neces­sar­ily be a bad thing as the hat is clearly ridiculous.
E. JB's Extreme Seriousface needs a bit of work. In this photo he looks like he's sulking about something.
F. The aliveness of the song's titular club — not to mention the number of shorties inside that club — would be difficult for the band to ascertain from within the car. Even if the car were parked just outside the club the presence of a queue, for example, might mis­lead­ingly suggest that the club is 'alive' when in fact the club's owners have simply allowed a queue to form while the interior is rel­at­ively quiet in the hope that passers-by consider the club to be more 'alive' than it is. We accept that this pho­to­graph may be intended to depict the "out with my boys just having some fun" element of the song but once again we come back to JB's Extreme Seriousface. This is not the face of a man having "some fun" with his "boys".