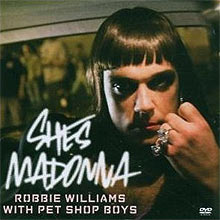 » It's actually out today.
» That's right — it hasn't been out for weeks, been, gone, hit the bargain bin and been deleted. This is actually the week of release!
» It is probably the least-bothered-about Robbie single in history, despite being one of his six best songs ever.
» What would have been good is if Robbie had done this with the Pet Shop Boys at the Brits and THEN dis­ap­peared on a revolving stage to be replaced by The Killers to perform their 'Read My Mind' remix with the Pet Shop Boys, and if THEN The Killers had swivelled out of view to be replaced by Madonna to do her Pet Shop Boys remix of 'Sorry'. That would have been literally quite good.
» Showing that he is prepared to bury the hatchet, Robbie has ended his feud with Victoria Newton by featuring her on the single sleeve.
» It's one of the songs from the album which shows that it was actually a really brilliant LP, not just a col­lec­tion of end-to-end 'do the Rudebox' nonsense. Centuries from now, pop his­tor­i­ans will look back on 'Rudebox' as the most com­pletely stupid first single choice in the history of popular song, just as 'doing a "Rudebox"' will be a phrase applied to a fall from grace by anybody making an album they want to make.
» The Kris Menace remix is almost really really amazing but the beat drops out too fre­quently for it to be of any practical dance­floor use. The Chris Lake remix is just a waste of everybody's time from beginning to end.
» Don't get us started on the 'Never Touch That Switch' remixes.
» "I found myself by cir­cum­stance across a room where people dance" is either Classic Tennant or Robbie Doing Classic Tennant Quite Well.
» If this is the last single from 'Rudebox' and if Robbie's next move is to record another bloody 'swing' album then it is YOUR fault for not buying this single and the blood is NOT on our hands.