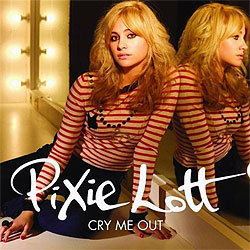 » It's released today.
» Let's get this out of the way near the start — this song does include the line "I got your emails, you just don't get females".
» Pixie's one of the most tra­di­tional pop starlets to have appeared in recent years — there's something very 'turn of the century' about the way she came into being and as if to hammer home the tra­di­tional values of this pop thing the third single is… Tada! A big ballad.
» Sound the ser­i­ous­ness alarm: the video is in classy 'n' adult black and white.
» In one part of the video Pixie Lott lies on a table while some gentlemen sit around it, and it looks as if she is the 'main course', except tra­gic­ally it also looks like that terrible episode of Come Dine With Me in which they had to eat sushi off the sort of person you really wouldn't want to eat sushi off (ie a hairy one).
» There is also a bit in the video that involves syn­chron­ised swimming which sadly means that Pixie Lott has to be in a swimsuit, but before any of you feminists get all upset about it don't forget that it's all to do with syn­chron­ised swimming AND it's in black and white, so that's a) context and b) art. IT'S FINE. (Also, there's a bit where she fiddles with a gramo­phone — very authentic etc.)
» There's an elephant in the room here and as usual it falls to us to sort things out. Basically it's almost Christmas and this song could do with some sleigh bells in it. Don't look at us like that, we're just saying what you're all thinking.