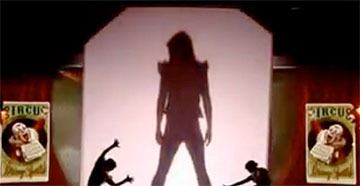 1. Come on now. It should abso­lutely not be a require­ment to sing live during a tele­vi­sion per­form­ance, and it seems slightly odd that a gen­er­a­tion of people who grew up watching lip­synched per­form­ances on 'much missed' Top Of The Pops should claim otherwise.
2. This said, an inter­na­tional superstar sup­posedly 'back on top' and with a decade's exper­i­ence in lip­synch­ing should at least be able to do it competently.
3. Lipsynching exists in order to facil­it­ate exciting stage spectacle and great choreography.
4. This said, shaking your tits around and pointing at things while you walk around a stage isn't exactly great choreography.
5. If you are Britney Spears and you're touring Europe to promote a single on a suc­ces­sion of TV shows you don't know or care about, you shouldn't be expected to sit through an hour and a half of ropey warblers murdering your songs.
6. This said, when asked a direct question about how you feel X Factor con­test­ants have performed, you should be able to come up with something a bit better than…
[audio:britneyxfactor.mp3]
She's a bit like Father Jack being prodded into con­scious­ness and respond­ing with a bewildered "DRINK! FECK! ARSE!", but her reaction also reminds us of the feeling you get when you're in a meeting and halfway through a daydream about fish fingers your hear the words "what do you think?", and realise everyone is looking at you.
7. Here's an idea — let's make sure the backing track sounds like it's being played through a duvet eight miles away.
8. Bit of a botched oppor­tun­ity to show everyone you're amazing again, really. :(