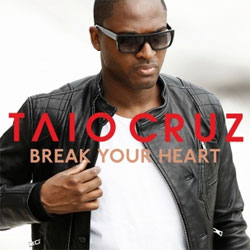 » Very cleverly it sounds like about 60% of everything that's been in the charts over the last eight months, meaning that it's cheaper to buy than the latest Now That's What I Call Music com­pil­a­tion and therefore rep­res­ents excellent value to the consumer.
» The best bit is "break break your break break your".
» The other best bit is "whoah-oh-oh-oh".
» The video is really quite something. It begins with Taio (pre­tend­ing to be American) and a lady in a car, and the lady goes "you know I'm just going to hurt you", and Taio goes "you know I'm only gonna break your heart, right?" and she goes "you wanna bet?" and Taio says "bring it on". NOTE TO IMPRESSIONABLE YOUNGSTERS: THIS SORT OF THING DOES NOT HAPPEN IN REAL LIFE. Then there are a load of speed­boats and general outdoor pursuit shenanigans, climaxing with a party at which Taio and his girl­friend both get off with other people. It looks a bit like it's heading into 'adult interest' territory, but mer­ci­fully the song ends before there is quite literally 'come on girl' (featuring Luciana).
» We like the whole message of this song — "sorry love it's out of my hands". As Taio trills, "there's no point trying to hide it, no point trying to evade it, I know I got a problem, problem with mis­be­hav­ing". This is such a brilliant catch-all excuse for being an absolute knobend not just in love but in all areas of life. You've been caught smearing shit up the walls of the work canteen? "I've know I've got a problem." Daughter locked in your basement for 24 years? "I've got a problem with mis­be­hav­ing." Not since Shaggy's 'It Wasn't Me' — in some ways this song's butter-wouldn't‑melt evil twin — has one tune provided such a multi-purpose, shrug-friendly response to misdemeanour.
» There's loads of other brilliant stuff on Taio's new album — we heard a few more tunes a couple of months ago and they're all VERY TOP NOTCH.
» There is a 'Paul Thomas' remix available on iTunes. It is over seven minutes long and a bit shit so don't waste your time.
» THE END.