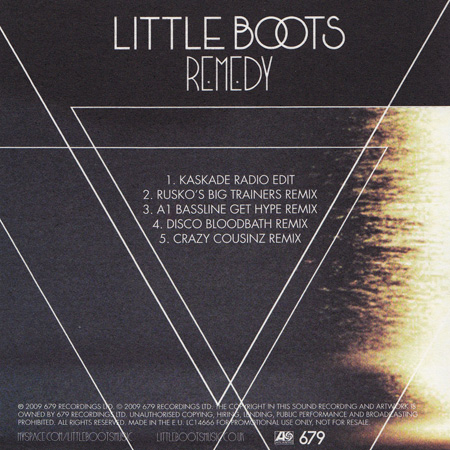 The time for taste­m­aker buzzzzzz remixes of interest to somewhere in the region of 184 people in London was probably this time last year. Literally twelve months ago. Has there been some sort of cost­cut­ting exercise in which 2008's wall planners have somehow been re-used for 2009, leading to this mistake? It's fine, though — nobody really seems to have noticed, so you probably have time to com­mis­sion some proper remixes before the single comes out.
BACKGROUND DETAIL
Just to clear things up, Little Boots says things like:
"I just think that london can get in this bubble
of thought and be super concerned about being in Vice magazine and
getting on blogs … I
don't give a shit about being cool like that…"
And:
"I love [Kylie], my mum and I have tickets to go watch the new tour. I have her calendar on my wall right now."
And:
"I'm not going to apologise for making a pop song seeing as making pop songs is what I said I wanted to do right at the start."
It's funny really, because while Victoria won't apologise sometimes it seems that Little Boots' label aren't quite so hesitant when it comes to dis­tan­cing them­selves from the pop. Sometimes — perhaps this is just us — it even seems like they're embar­rassed. Perhaps, more likely, they just weren't expecting the girl they signed as one member of Dead Disco (IMAGINE A GIRLGROUP BUT COOL AND WITH INSTRUMENTS!!!) to actually be an artist with sometimes leftfield but at the same time very pure pop aspir­a­tions. The Rusko remix of 'Remedy', for example, is brilliant in a 'super concerned about getting on blogs' sort of way, but one has to wonder whether Victoria and her mum would really get tickets to go and see this.
httpv://www.youtube.com/watch?v=yPVUijhoVBk

The Kaskade mix is sort of along the right lines — we'll probably do that for Song OF The Day tomorrow so you can have a listen.
POPJUSTICE'S THOUGHT OF THE DAY
It is often inter­est­ing how people like to create the impres­sion that
they are 'into' pop or 'get' pop when, in fact, they're just using
'pop' as a kind of buzzword and when it comes down to it all they really want
to do is listen to Vampire Weekend.
Update:

Another PJ triumph!