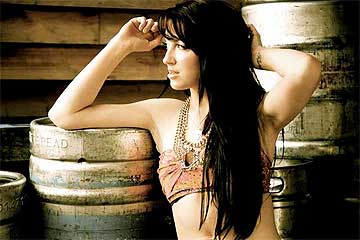 This lovely lady is Neon Hitch.
Here is a song she has made.
[audio:neonhitch.mp3]
it is called 'My Book' (ooh — literary), it is today's Song Of The Day, and you can also download the whole thing here thanks to us and Neon Hitch's 'people'.
These state­ments are true:
1. She will be up your street if you like Nelly Furtado, Kate Nash, Sia and Lily Allen.
2. Her songs are good.
3. Her MySpace is at www.myspace.com/neonhitch.
According to the email in our inbox the following state­ments are also true:
1. She is Amy Winehouse's flatmate. (!)
2. She is an ex-trapeze artist. (!!)
3. She was born to a family of gypsies. (!!!)
4. Neon Hitch is her real name. (!!!!)
5. Amy Winehouse gives her advice. (!!!!!)
Correct us if we're wrong but surely Neon is a boy's name.