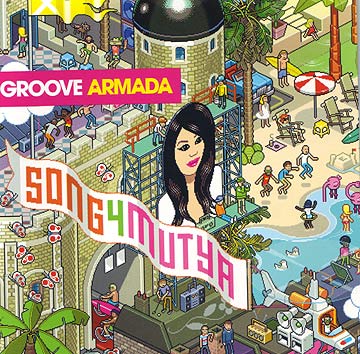 Today we received in the post not one, not two, but THREE (three!) different pro­mo­tional CDs for 'Song 4 Mutya'. (The sleeve for the best one is above, featuring a pixel­lated Mutya and lots of little people.)
It is, therefore, a good day at Popjustice HQ. Any concept of subtlety has been jet­tisoned for this release which sees the song being reswizzled in a number of danceable ways, with the A1 Panic People remix and the Sunset Strippers rejig coming top of the list. The Sunset Strippers mix is today's Song Of The Day, if you would like to have a listen to a short clip.
It seems a long time since we first wrote about the track (it is quite a long time — that was back in February) but it is still ONE OF THE MOST AMAZING THINGS WE HAVE EVER HEARD.