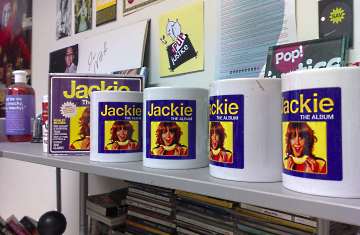 Remember our appeal for mugs last week? Well, con­sid­er­ing the music industry's motto is 'if Radio One won't play it, get some pro­mo­tional mugs made and see what happens' the results have frankly been a little disappointing.
So far we have received:
» One Housemartins 'Cream Of The Beautiful South' Campbells-style mug (barely visible in above 'Shelf Of Mugs' picture). 7/10
» Four — FOUR! — 'Jackie — The Album' mugs. 8/10
This is a good start but we hope there is more to come.
Anyway, about this 'Jackie' album. Jackie was a magazine for young ladies in The Olden Days. These days magazines for teenage girls are all 'fisting' this, 'tar­mack­ing' that, 'I filmed myself having sex with eight boys and posted it on YouTube — am I a slag?'. In the days of Jackie it was all about ROMANCE and HOLDING HANDS and *weeps uncon­trol­lably at What Society Has Become*
We saw 'Jackie — The Album' advert­ised on tele­vi­sion over the weekend and thought that it looked as if it would be quite good. As ever, we were right. It is com­pletely amazing. CD2 is on in the office at the moment — hello, 'Sugar Baby Love' — but CD3 has 'Wig Wam Bam' on it so may be the best of the lot. Only time will tell. Also, the sleevenotes and the CD booklets and the free David Cassidy and Donny Osmond poster are what you would probably describe as 'lovingly put together'.
It is a nice thing to buy an ancient (30+) woman, if you know any.