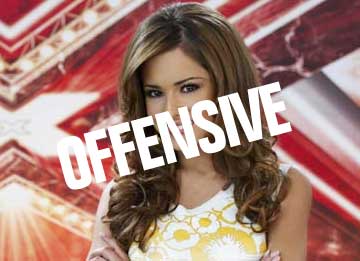 New in from Popjustice reader Matthew:
"We are offended that Cheryl Cole has not exercised her con­sid­er­able influence over Simon Cowell to stop the X Factor Finalists knocking Girls Aloud off No.1. This shows an utter lack of respect for people with func­tion­ing ears and taste glands. We expect a full apology from Cheryl, first to her bandmates — live on this weekend's show — and secondly to the nation via Richard Littlejohn's peerless Daily Mail column. We acknow­ledge that Cheryl made a last-ditch attempt to thwart the song by locking Ruth and Daniel in their dressing room, but her ultimate failure means she should forfeit her position in Girls Aloud. Give it to that nice Suzie Furlonger."
We await Cole's response.
In other news:
No response yet on Gabriella Cilmi Lessons To Be Learned Deluxe Editiongate.
No response yet on Barlowgate.
HOWEVER
There has been an official response from All Around The World regarding Breezygate.
"Dear PJ,
Thank you for your con­tri­bu­tion to the YouTube view count for Breezy, I'm sure it will be useful help for the pluggers. However I feel that as long as there are more serious issues at stake in the music industry. Breezygate et al. are little more than a dis­trac­tion from some of the real issues we face, namely:
1/ Is Simon Cowell buying TOTP?
2/ Why have Westlife never been brought before the International Criminal Court for crimes against humanity?
3/ When is Daniel finally going to be ejected from the X Factor?
4/ Is anyone going to suc­cess­fully mount a challenge to stop the XFactor winners song being Xmas number 1 (again)?
5/ When is Gary Barlow going to get a knighthood?"
Although All Around The World's official response does not address all our concerns in the Breezygate scandal we think they have accepted respons­ib­il­ity for the offence taken and are happy to say that the Breezygate episode is now over.