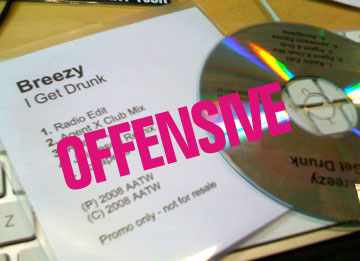 On December 1, All Around The World Records will release 'I Get Drunk' by UK MC Breezy. The song is about drinking alcohol and as such is deeply offensive to non-drinkers as well as inap­pro­pri­ate listening for anybody under the age of 18.
httpv://www.youtube.com/watch?v=-H0J0gcN0E0

Furthermore we consider the chosen release date to be incred­ibly offensive to Christians, as they will be cel­eb­rat­ing Christmas in that month.
We demand that the song is imme­di­ately withdrawn from the release schedules, that Breezy, All Around The World and the record's publicist immed­ately issue apologies, and that Breezy is jailed for twelve years as a warning to others. All Around The World must imme­di­ately cease trading and its back catalogue must be withdrawn from sale, with all master record­ings destroyed.