Look, we're sorry about this but we are fucking loving the Ben Mills single, 'Beside You'.
(Then again six years ago we did spend an entire weekend listening to Ronan Keating's 'Life Is A Rollercoaster' on repeat.)
We also like this picture, which looks less like a man at a piano and more like it's taken a fraction of a second before a flying sheet of glass decap­it­ates him.
Also, be grateful that 'Beside You' is not the Ray Quinn single, which is a cover of 'My Way' and possibly the worst thing you will hear this decade.
The Ray single is com­pletely terrible for reasons too numerous to mention here, but this grab from the video sums things up quite well.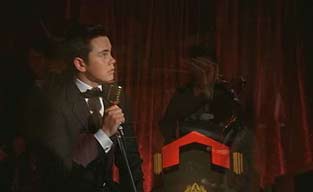 That's right, viewers: the line "I face my final curtain" is accom­pan­ied by the sight of Ray TURNING TO FACE A CURTAIN. :(