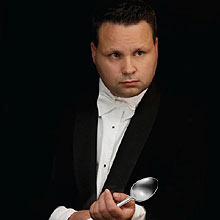 This week: Paul Potts
As part of our ongoing com­mit­ment to repop­ular­ise the humble spoon in the popular music sphere, we recently caught up with Britain's Got Talent winner Paul Potts for a chat about his favourite cutlery item.
Do you have a favourite spoon that you'd choose over all others?
"No. Anything that comes to hand."
Do the spoons in your house match?
"No."

Have you collected them over time, from different places?
"Yes."
Any special spoons in your collection?
"No."
Thanks, Paul!