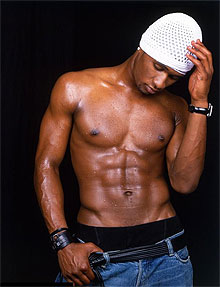 One of many tools the pop song­writer has at his or her disposal is the English language.
It is a beautiful, versatile tool and Usher's new single 'Love In This Club' is a great example of ima­gin­at­ive lyricism.
Unfortunately it is sometimes hard to under­stand what he really means, so if you're one of the many people wondering what Usher is really singing about, allow us to explain.
"Come here baby and let daddy show you what it feel like."

For the purposes of this love­mak­ing scenario I will assume the role of your father.

"You know all you gotta do is tell me what you sippin' on."
You will be 'sipping' on my sperm later this evening.

"And I promise that I'm gonna keep it comin' all night long."
I produce a large amount of sperm and am also capable of deliv­er­ing it on numerous occasions through­out the course of the evening.
"I think Miss Shorty I've got a thing for you."
My penis.

"Doin' it on purpose while you were workin' it, I can tell by the way you lookin' at me." / "Cos the way you staring miss you got me wantin' to give it to you all night."
She was asking for it, your honour.

"I wanna make love in this club make love in this club, in this club, in this club I wanna make love in this club in this club, in this club, in this club."

I want to make love in this club.
"I can't take it no more baby I'm coming for you."
A small amount of semen has appeared at the tip of my penis — this is your fault.
"If we close our eyes it could be just me and you."
Let's make love like ostriches.
"Got you trapped, I'll set you free."
Once we've finished I'll let you leave.
"I'll be like your medicine, you'll take every dose of me."
I may cause drowsi­ness. Do not operate heavy machinery. (For the purposes of this evening my penis does not qualify as heavy machinery.)

"I'll bag you like some groceries."
I will pay cash for this. I do not have a loyalty card. No I do not need any help 'filling my bags'.

"Meet me in the bathroom yeah you know what I'm saying."
I am suffering from terrible, terrible diarrhoea.

"Keep it up girl and I swear I'm a give it to you non stop."

Let's split the respons­ib­ilty here — you project manage my erection and I'll take care of club-based lovemaking.
The end.
We hope this has been of some use. The song's brilliant by the way, and here it is.
httpv://www.youtube.com/watch?v=4djgSWHbWOA