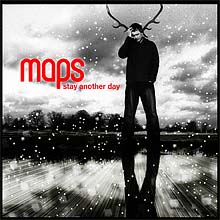 Why isn't 'Stay Another' Day' by East 17 back in the Top Ten? Perhaps it is damage done by the shoddy reunion. Perhaps the public are simply idiots.
ANYWAY — miserable Mercury Music nominee ('loser') Maps has knocked out a spookily gloomy elec­tronic cover of 'Stay Another Day' which is even better than the ancient ('terrible') Girls Aloud version, with the sound of a million lonely Christmas rockets going off all over the place.
We should also throw in the fact that it is being given away for free. FREE!!!!!!!!

Click here to download Maps' 'Stay Another Day'.
Notes Mr Maps of the song: "Before I embark on the quest that is writing my second album I wanted to send a special gift to those of you who've supported me through this amazing year. This song is my special Xmas gift to you, inspired by taking 12 Es and running myself over in my own car. Only an enormous puffa jacket prevented me from certain death."